5 - SLIGHTLY ADVANCED RECIPES
*** BAKING ***
CAKES, SCONES AND SWEET PIES
Lime Meringue Pie is one of those lovely desserts you can eat at any time of year. You can serve it on its own or with a scattering of blueberries.

Preparation: 20 Minutes
Cooking: 20 Minutes
SAVOURY PIES
*** BATTER, BREAD, DOUGH & PASTRIES ***
PASTRY
Beef Wellington - the tenderest of Angus beef, smothered with mushroom duxelles, wrapped in Parma ham and put to bed in a cover of golden puff pastry.

Preparation: 1 Hour
Cooking: 30 Minutes
*** BEEF & VEAL RECIPES ***
BEEF
*** CHEESE ***
RECIPES THAT INCLUDE CABRALES
*** DESSERTS ***
ALL DESSERTS
Christmas Pudding is one of the icons of British culture. It is a Victorian dish made from dried fruit, suet, candied peel, spices and much much more!

Preparation: 45 Minutes
Cooking: 6 Hours

If you're not a fan of hot chocolate sauce, Profiteroles in Caramel are a great alternative to Chocolate Profiteroles. AND they just melt in the mouth

Preparation: 20 Minutes
Cooking: 20 Minutes
*** FISH, SHELLFISH & CRUSTACEANS ***
FISH RECIPES
*** GAME RECIPES ***
ALL GAME RECIPES
*** LAMB RECIPES ***
ALL LAMB RECIPES
Cassoulet is a rich, slow-cooked bean stew or casserole of peasant origins from the south of France. Typically, it contains pork sausages & pork loin.

Preparation: 20 Minutes
Cooking: 2 Hours
*** PASTA, NOODLES, COUSCOUS & RICE ***
RICE RECIPES
Making risotto is a gentle process but it can be served with a variety of accompaniments... working particularly well in this recipe with monkfish

Preparation: 10 Minutes
Cooking: 50 Minutes
*** PORK RECIPES ***
PORK & HAM
SAUSAGE & SAUSAGE MEAT RECIPES
*** POULTRY, WILDFOWL & GAME BIRDS ***
CHICKEN RECIPES
The French name for this is "Poulet a l'ail et aux Fines Herbes en croute de Sel Parfumée" - Chicken in Garlic and Herbs with a crust of Perfumed Salt

Preparation: 20 Minutes
Cooking: 1 Hour 30 Minutes
DUCK RECIPES
Cassoulet is a rich, slow-cooked bean stew or casserole of peasant origins from the south of France. Typically, it contains pork sausages & pork loin.

Preparation: 20 Minutes
Cooking: 2 Hours

Confit de Canard (Duck Confit) is one of our absolute favourites and, whenever we serve it to non-French guests, they fall in love with it too.

Preparation: 1 Hour
Cooking: 2 Hours 30 Minutes
PHEASANT RECIPES
*** VEGETABLES ***
KIDNEY BEANS
MUSHROOMS
TOMATOES
VARIOUS VEGETABLES
What To Eat Tonight

323 Family Dinners
Delicious hand-picked meals that were made for sharing. Your family is special so they deserve something special, don't they!

52 Fabulous French Dishes
Oh those French! But it's not for nothing that French Cuisine has travelled right across the globe and back. Their recipes can be sublime.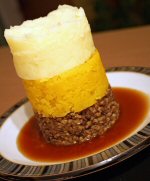 96 Unusual Recipes
There are lots of recipes for some foods, but here we offer a selection of recipes that are truly out of the ordinary. You'll be amazed.