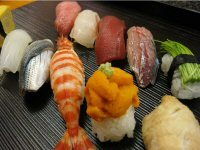 Nigiri-zushi

Preparation Time: 20 Minutes
Ingredients for Nigiri-zushi



Currently displaying quantities in
US Imperial
Measurements
to serve 4:
4 cups
cold Japanese Sushi Rice
6 oz
tuna
6 oz
halibut
6 oz
red snapper
6 oz
mackerel
8
prawns
pickled ginger
2 teaspoons
wasabi paste
dark soy sauce
How to Cook Nigiri-zushi
The basis is the same for all nigri. You form the rice into a slightly rounded shape and join a thin slice of raw fish or a cooked prawn (split down the middle) to it. The diagrams below should help..

1

Moisten your hands with 'Te-zu'
Take about one ounce (25 g) of Sushi Rice in your right hand and make an egg-shaped rice ball in your palm.
Pick up a piece of sliced fish with thumb and index finger of your other hand.

Te-zu (hand-vinegar) is prepared by diluting rice vinegar with water by about 1:3.

Preferably the temperatures of Sushi Rice (Shari) and your hands should be the same. Shari tends to stick to cold hands.
2

Holding the shaped Sushi Rice, scoop up a tiny amount of wasabi with the right index finger.
Rest the fish between the second and third joints of your left hand fingers.

3

Smear the wasabi on the centre of the fish.

No need to spread the Wasabi, otherwise it can prevent good cohesion between the fish and the rice.
4

Place the rice onto the fish.
Gently press the centre of the rice with the thumb to introduce some air into the rice.

'Airing' the rice is the most important part of making good nigiri-zushi.
5

Hold and close the nigiri by the four fingers of your left hand and press with two fingers of your right hand.
Push down the end of the nigiri with the left thumb at the same time.

Do not press too hard - just enough for the fish to adhere to the rice.
6

Turn your right hand round to show your palm.

7

Transfer the sushi (nigiri) from your left palm over to your right.

8

By turning each hand again in reverse, return the nigiri to left palm. Now it has been rotated horizontally by 180°.
Again press and push as in step 5

The other end is now made firm by the thumb.
9

By rolling the nigiri (either with a help of your right index finger, or simply rolling it in your palm) turn it so it has the fish side up.

10

Again press and push the same way as before.

Do not press too much. The critical point is that the outside of the nigiri is firm enough but inside is still loose.
11

Pick up the nigiri and rotate horizontally by 180°.
Again press and push in the same way.
Repeat this once or twice more.

12

Make any final adjustments on both sides, if necessary, then press one last time.

Nigiri of 'Funazoko' (ship-bottom) shape is now complete.

The more Nigiri-zushi you make, the more expert you will become at shaping them. Carefully arrange them on a plate (or plates), along with a few slices of pickled ginger. In a small dipping bowl, pour a little soy sauce - about ½" (1cm) depth - and serve next to each plate.
GRAHAM'S HOT TIP:
Be sure to slice the fish very thin. If it's too thick, it won't take the shape of the rice.

Reviews of Nigiri-zushi
May 14 2014

I always wondered how they made these! I'd tried often enough with no real chance of success but when I saw the illustrations here I thought I'd give it a go. I discovered that the REAL secret is not to take short cuts!! (My bad!). I tried using ordinary rice instead of making the proper sushi rice. As soon as i used sushi rice, these worked really well. I've got to perfect them yet, but practise will make perfect (and everybody is happy eating the results of my trials!)

SaraP

(1 review)
More Delicious Recipe Ideas from NeedARecipe.com
What To Eat Tonight

120 Recipes We're Loving
These are our editorial choices that we have tried and really enjoyed. A real mixture of recipes but all of them certain to please.

140 Christmas Holiday Recipes
Christmas is that special time of year when diets go out of the window and folks spend more time preparing beautiful meals.

268 30 Minute Recipes
These speedy recipes take just 30 minutes from fridge to table. Ideal when you're in a hurry and you have hungry mouths to feed!
Other Fish & Seafood Recipes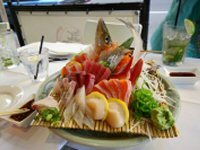 Sashimi (Raw Seafood)
Sashimi is often the first course in a formal Japanese meal, but it can also be the main course, presented with rice and miso soup in separate bowls.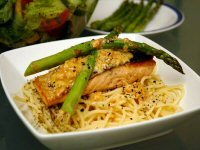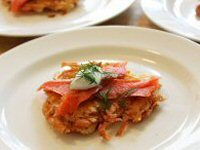 Smoked Salmon on Potato Pancakes
This Smoked Salmon on Potato Pancakes recipe will make 8 pancakes which are ideal as a starter for 8 people or a light meal for 4 people. Perfect!