Baked Sausages with Apples, Raisins & Cider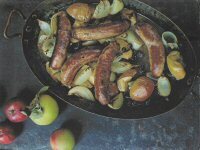 Serves: To serve 6
Prep Time: 10 Minutes + waiting
Cook Time: 55 Minutes
Ready In: 1 hr 5 mins
+ waiting
Ingredients
2½ oz - raisins
2 fl oz - brandy (or you can use whisky)
2 large - onions
3 - eating apples
3 tablespoons - olive oil
  - salt and freshly-grated black pepper
8 sprigs - thyme
1 tablespoon - soft light brown sugar
12 - pork sausages
7 fl oz - dry cider
Directions
Place the raisins in a small pan and add the brandy. Bring to just under the boil then take the pan off the heat and set aside for 30 minutes for the raisins to plump.

Meanwhile, peel and halve the onions, then cut each half into four wedges. Peel, quarter and core the apples. Place the onions and apples into an ovenproof dish that will hold the sausages in a single layer. (If it's a dish you can take to the table to serve from, so much the better).

Add 2 tablespopons of olive oil to the dish, plus the thyme and the seasoning (salt and freshly ground black pepper). Toss the apples and onions with your fingers to coat them in oil. Sprinkle brown sugar on each wedge of apple. Once the raisins have plumped, scatter them with the brandy they were soaking in amongst the apples.

Heat a tablespoon of olive oil in a frying pan and fry the sausages on a high heat, turning regularly. This is just to brown them so they have a golden appearance. Place them on top of the apples and onions and pour the cider into the roasting dish.

Bake in a preheated moderately hot oven (Mk 5 - 375°F - 190°C) for 50 to 60 minutes. The sausages will become dark brown, the apples golden and tender, and the liquid will be absorbed by the onions.

Serve immediately with Mash with Attitude or plain Creamy mashed potatoes.