Beef with Five Peppercorns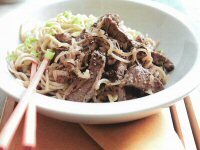 Serves: To serve 4
Prep Time: 10 Minutes + waiting
Cook Time: 10 Minutes
Ready In: 20 mins
+ waiting
Ingredients
1 lb - Lean beef steak
3 tablespoons - groundnut (peanut) oil
2 tablespoons - cognac
3 large - shallots
2 tablespoons - five peppercorn mixture
½ teaspoon - salt
8 fl oz - chicken stock
2 tablespoons - butter cut into small pieces
For the marinade
1 tablespoon - light soy sauce
1 tablespoon - rice wine or dry sherry
2 teaspoons - cornflour (cornstarch)
1 tablespoon - sesame oil
Directions
Cut the beef into strips about 5cm (2") long and 5mm (¼") thick, cutting against the grain. Place in a dish with the marinade ingredients, mix well and leave to marinate for 20 minutes. Meanwhile peel and finely chop the shallots. If your peppercorns aren't in a bottle with a grinding top, extract 2 tablespoons of whole peppercorns and crush them either in a pestle and mortar, or with the flat of a cleaver.

Heat a wok or large frying pan over a high heat until it is very hot. Add the groundnut (peanut) oil and, when the oil is hot and begins to smoke, add the beef from the marinade using a slotted spoon. Stir fry for about 2 minutes (it should be barely cooked). Remove the beef and drain in a colander.

Pour all the oil from the pan and reheat over a high heat. Add the cognac. Deglaze by stirring and scraping the base of the pan or wok with a wooden spoon. Add the chopped shallots, the ground peppercorns, salt, and chicken stock then simmer over a high heat until reduced by half. Stir in the butter piece by peice.

Return the beef to the pan and stir fry for 30 seconds to warm it through. Serve straight away with noodles.