Caramel Shortbread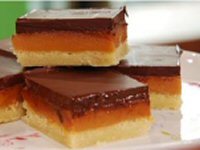 Serves: 9 pieces
Prep Time: 15 Minutes
Cook Time: 1 Hour
Ready In: 1 hr 15 mins
Ingredients
FOR THE SHORTBREAD:
6 oz - unsalted butter
3 oz - caster (superfine) sugar
1 - vanilla pod (vanilla bean)
8 oz - plain flour (all purpose flour)
FOR THE CARAMEL:
7 oz - unsalted butter
1 x 14oz can - condensed milk (or sweetened evaporated milk)
4 tablespoons - golden syrup (corn syrup if not)
1 teaspoon - sea salt
FOR THE TOPPING:
12 oz - dark or milk chocolate
Directions
Split the vanilla pod (vanilla bean) and scrape out the seeds. Rub the butter, sugar, flour and vanilla seeds together in a mixing bowl to make a coarse dough. Grease an 8" (20cm) square cake tin with a little butter on a piece of kitchen roll, then line the tin with greaseproof paper. Press the dough into the tin and prick all over with a fork.

Bake the shortbread dough in a preheated moderate oven (Mk 4 - 350ºF - 180ºC) for five minutes, then reduce the heat to Mk 2 - 300ºF - 150ºC and bake for a further 35 minutes. Remove from the oven and allow to cool in the tin.

Meanwhile for the caramel, place all the ingredients in a saucepan and bring to a gentle boil for 10 minutes. Pour this caramel mixture over the shortbread in the tin then chill in the fridge until the caramel has cooled and hardened slightly.

Break the chocolate into small pieces then melt in a bowl set over a pan of nearly simmering water. Gently and constantly stir the chocolate while keeping the water just below simmering (don't let the bottom of the bowl rest on the bottom of the pan or it will get too hot and the chocolate will separate into liquid cocoa butter and clumps of cocoa powder). Once melted, pour the chocolate on top of the caramel. Chill in the fridge again until the chocolate has set, then cut into 9 squares. Serve with a nice cup of tea in a bone chine cup and saucer!!!