Cauliflower Manchurian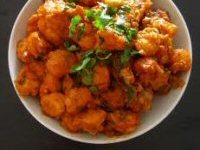 Serves: to serve 4
Prep Time: 10 Minutes
Cook Time: 25 Minutes
Ready In: 35 mins
Ingredients
1 medium - cauliflower
2½ oz - plain flour
1 tablespoon - corn flour (corn starch)
1½ tablespoons - garlic paste
1½ tablespoons - ginger paste
8 fl oz - vegetable oil
1 tablespoon - olive oil
1 large - onion
1 - green chili
¼ teaspoon - Ajinomoto
2 tablespoons - soy sauce
2 tablespoons - tomato ketchup
6 - coriander leaves
  - salt
Directions
Cut the cauliflower into small florets leaving the stalk, then wash the florets thoroughly in running water. Finely chop the green chili and the coriander leaves, and peel and finely chop the onion.

In a large mixing bowl, mix the plain flour, corn flour and salt. Add a little water to make a paste then stir in about ¾ of the ginger paste and ¾ of the garlic paste.

Pour the oil into a deep, thick bottomed pan and heat it over a medium-high heat. Dip the cauliflower florets in the paste and deep fry them until golden brown (about 10 minutes).

Heat the olive oil in frying pan (skillet) over a medium heat and add the remaining ginger & garlic paste, the chopped onions and the chopped chili. Stir in the aginomoto, soy sauce and tomato ketchup then add the fried cauliflower florets.

Mix well and season with salt to taste, then cook for 10 minutes stirring regularly. Garnish with chopped coriander leaves and serve hot either as a starter or a snack.