Chocolate and Nut Snaps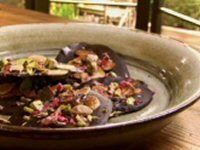 Serves: Makes about 6 snaps
Prep Time: 10 Minutes
Cook Time: 10 Minutes
Ready In: 20 mins
Ingredients
4 oz - dark chocolate
20 - 25 - pistachio nuts
4 tablespoons - flaked almonds
2 teaspoons - caster sugar (superfine)
  - flaked sea salt
  - crystallised roses
Directions
Preheat the oven to moderate (Mk 4 - 350ºF - 180ºC). Line a baking tray with greaseproof paper (bakery paper or parchment paper) and spread the flaked almonds out on the tray. Toast in the oven for two minutes then remove the tray from the oven and sprinkle the sugar over the nuts. Return to the oven for a further minute for the sugar to caramelise a little.

Break the chocolate into pieces and melt it in a bowl over simmering water. When melting chocolate, it is best to do so by placing the pieces into a bowl and placing that over a pan of hot water on the stove. Leave the chocolate alone without stirring and, when the chocolate is half-melted turn the heat off and leave the residual heat of the water and steam to finish off. You can nudge the solid parts into the melted chocolate to help it along, but do not stir. (Yes, I know you can shove it in the microwave, but I can assure you it won't taste the same!)

While the chocolate is melting, shell and roughly chop the pistachios. When the chocolate has completely melted spoon one tablespoon at a time onto a tray lined with greaseproof paper. Using the back of the spoon, spread the chocolate into circles about 2½"-3" (6cm - 7.5cm) wide. You needn't be too fussy about getting perfect circles. While the chocolate is still warm, quickly scatter the almonds and pistachios over the discs. Sprinkle a little flaked sea salt and some crushed crystallised roses for colour.

Chill the tray in the fridge for about 20 minutes, gently remove the snaps away from the paper and enjoy!