Coconut Rice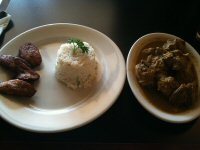 Serves: to serve 4
Prep Time: 2 Minutes
Cook Time: 18 Minutes
Ready In: 20 mins
Ingredients
9 oz - long grain rice
1½ pints - water
1 tablespoon - vegetable oil
4 oz - fresh shredded coconut
3 tablespoons - ghee (clarified butter or drawn butter)
1 oz - cashew nuts
½ oz - broken dry chilies
1 oz - black gram dhal
5 - curry leaves
1 oz - ground coriander leaves
  - salt
Directions
Cook the rice as for Boiled Rice. Meanwhile, add 1 tablespoon of vegetable oil to a small frying pan and fry the shredded coconut evenly to a golden colour over a slow heat

In a small pan, heat the ghee and fry the cashew nuts until golden. Remove, then fry the broken pieces of dry chilies, black gram dhal, and curry leaves well.

Add the fried coconut and cashew nuts to the rice and mix well. Season to taste and add the fried dry chilies, black gram dhal, curry leaves and coriander leaves. Mix well and serve hot.