Cold Peking Pork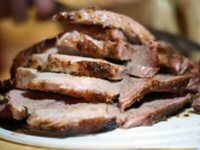 Serves: to serve 4 - 6
Prep Time: 15 Minutes + waiting
Cook Time: 2 Hours
Ready In: 2 hrs 15 mins
+ waiting
Ingredients
1½ lb - pork leg, fillet end or shoulder, in one piece
FOR THE BRAISING LIQUID
2½ pints - chicken stock
3 slices - fresh ginger
3 - spring onions (a.k.a. scallions or salad onions)
2 - star anise
2 tablespoons - dry sherry or rice wine
2 teaspoons - five spice powder
5 tablespoons - sugar
2 tablespoons - dark soy sauce
1 teaspoon - salt
Directions
Remove the rind from the pork but do not discard it. Bring a large pan of water to the boil and blanch both the rind and the pork for about 5 minutes. Remove them with a slotted spoon, discard the liquid and chop the rind into small pieces. Rinse the pan clean and return the pork. Add all the braising liquid ingredients plus the pieces of rind. Bring the whole mixture to the boil, then turn down the heat to a very low simmer. Cover the pot and simmer for 2 hours.

Remove the cooked pork from the pan with a slotted spoon, allow to cool a little then carefully remove any bone, keeping the meat as intact as possible. Place the pork in a dish or bowl of equivalent size. Skim off as much fat as possible from the liquid, turn the heat back to high and reduce the liquid to half. Strain the reduced liquid and pour it over the meat in the bowl. Allow it to cool, then leave it in the refrigerator overnight.

Just before serving, remove the pork and slice it as thinly as possible. If the juice has jelled, cut it into cubes and arrange as a garnish around the pork, otherwise, simply pour some of the cooled liquid over the pork slices and serve with a cold salad either as a starter or a main course.