Continental Fried Potato Salad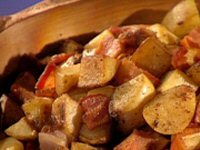 Serves: to serve 4
Prep Time: 10 Minutes
Cook Time: 25 Minutes
Ready In: 35 mins
Ingredients
6 medium-sized - potatoes
8 oz - thick sliced smoked streaky bacon (side bacon)
5 tablespoons - vegetable oil
- salt and pepper
½ - red oinion
2 tablespoons - capers (drained)
3 tablespoons - red wine vinegar
3 tablespoons - extra-virgin olive oil
1 tablespoon - Dijon mustard
Directions
Peel the potatoes and cut into bite-size pieces (if you are using new potatoes, don't bother peeling them, just cut them into the right size). Rinse away any surplus starch in cold water then place the potato pieces in a large pan, cover by about 2" (5cm) with salted water and bring to a boil. Cook until the potatoes are tender, about 10-15 minutes. When the potatoes are cooked, drain and spread out on a tea towel or kitchen paper to dry.

While the potatoes are cooking, roughly chop the bacon into pieces and place in a large frying pan. Cook over a low/medium heat until the bacon is cooked and beginning to crisp (about 5-8 minutes). Remove the bacon with a slotted spoon and drain the fat from the pan.

Wipe the pan with paper kitchen towels and turn up the heat. Add the vegetable oil and heat until it begins to smoke. Carefully add the potatoes and shake the pan a few times to prevent sticking. Turn down the heat a little and let the potatoes brown. Season with salt and freshly-ground black pepper. Shake the pan and turn potatoes to brown on all sides.

Peel and dice the ½ onion and, when the potatoes are almost completely browned, add to the pan, turn down the heat and let everything cook together until the onions are caramelised. Add the drained capers and red wine vinegar and use a wooden spatula to deglaze the pan. When the vinegar is mostly evaporated, remove the pan from the heat.

Stir in the extra-virgin olive oil, mustard and cooked bacon. Re-season with lots of freshly-ground black pepper and serve warm.