Country Lamb Pie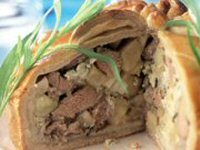 Serves: to serve 6
Prep Time: 30 Minutes
Cook Time: 1 Hour 10 Minutes
Ready In: 1 hr 40 mins
Ingredients
1 lb - ready made shortcrust pastry
12 oz - good quality lamb shoulder meat
1 tablespoon - plain flour (all-purpose flour)
1 - cooking apple
1 - large onion
4 oz - Stilton cheese
  pinch - fresh tarragon
  - salt and pepper
2 tablespoons - lamb stock
1 - egg
Directions
Trim off any excess fat from the lamb and cut it into bite-size cubes. Peel and core the apple and dice it. Peel and chop the onion and dice the cheese.

Roll out about two-thirds of the pastry on a floured surface. Use this to line the base and sides of an 8" (20cm) flan ring. Mix the meat with the flour, apple, onion, blue cheese and tarragon, season well with salt and freshly-ground black pepper then turn the mixture into the lined tin and add the lamb stock. (Use one teaspoon of dried tarragon if fresh is not available)

Roll out the remaining pastry and use it to cover the pie, sealing the edges well (you can use the pastry trimmings to decorate the top). Beat the egg and brush the pastry with egg glaze

Bake the pie in a preheated moderately hot oven (Mk 5 - 375ºF - 190ºC) for 20 minutes then reduce the heat to moderate (Mk 3 - 325ºF - 170ºC) and cook for a further 40 to 45 minutes or until golden brown. Serve hot or cold.