Daube Provençale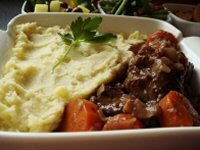 Serves: to serve 4
Prep Time: 20 Minutes
Cook Time: 3 Hours
Ready In: 3 hrs 20 mins
Ingredients
2 - 2½ lb - Stewing Steak or Braising Steak (Beef Shank)
2 - onions
3 tablespoons - olive oil
1 pint - red wine
¾ pint - water
2 medium - tomatoes
4 cloves - garlic
1 - orange
2 - cloves
1 sprig - thyme
1 sprig - rosemary
2 - bay leaves
3 - 4 sprigs - parsley
  - salt and pepper
3 medium - carrots (optional)
12 - 15 - green olives (stoned)
12 - 15 - black olives (stoned)
Directions
Peel and chop the onions and place them in a large pan with the olive oil. Cook slowly until the onions become translucent. Meanwhile, trim any excess fat off the meat then cut it into large cubes about 2" (4 - 5 cm) across. Add the meat to the pan and quickly brown it on all sides.

Add the wine and the water (a medium red table wine is fine for this recipe, so don't use the best Chateau Neuf du Pape! Something like a Beaujolais or Côtes du Rhône will work just fine). Peel and de-seed the tomato and cut it into four. Peel and crush (mince) the garlic. Add the tomato and garlic to the pan.

Peel the orange. Take about ¼ - ½ of the orange peel and pierce with the cloves. Add this to the pan (you can now go ahead and eat the rest of the orange - we won't be using it in this recipe!)

Add the thyme, rosemary, parsley and bay leaves, then season with salt and freshly ground pepper to taste. Bring the mixture to the boil for ten minutes then reduce the heat and simmer for 2½ hours

If you are adding carrots, peel and thinly slice them, then, after the 2½ hours, add them to the pan. Add the olives and allow to the mixture to simmer for a further ½ hour. Finally, remove the orange peel, the bay leaf, the thyme, rosemary and parsley, and check the seasoning (salt). If the sauce is too thin, reduce it over a high heat.

Serve simply with Creamed Potatoes and I promise you, you'll be delighted with the outcome. Daube Provençale is a favourite in our house with good reason!