Eggs Benedict with Smoked Salmon & Chives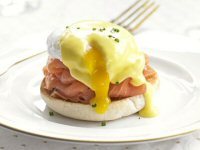 Serves: to serve 4
Prep Time: 15 Minutes
Cook Time: 20 Minutes
Ready In: 35 mins
Ingredients
FOR THE HOLLANDAISE SAUCE
2 teaspoons - lemon juice
2 teaspoons - white wine vinegar
3 - egg yolks
4½ oz - unsalted butter
  - salt & pepper
FOR THE EGGS BENEDICT
2 tablespoons - white wine vinegar
4 - eggs
2 - English muffins
2 oz - butter (for spreading)
8 slices - smoked salmon
10 - 12 - chives
Directions
First make the Hollandaise sauce... place the lemon juice and white wine vinegar in a bowl, add the egg yolks and whisk with a balloon whisk until light and frothy. Place the bowl over a pan of simmering water and whisk until the mixture thickens. Gradually add the unsalted butter, whisking constantly. If it seems that the sauce might be separating, remove from the heat for a few minutes, but keep whisking. Season with salt and freshly ground black pepper and keep warm while you cook the eggs.

Bring a large pan of water to the boil and add the white wine vinegar. Lower the heat so that the water is just simmering gently, then stir the water to create a slight whirlpool. Crack the eggs into a cup or saucer and slide them one by one into the water. Cook them for about 4 minutes, then remove with a slotted spoon.

Meanwhile, halve the muffins and lightly toast them. Butter them and place a couple of slices of smoked salmon on each half. Top each with an egg and spoon over some Hollandaise sauce. Garnish with chopped chives.