German-style Potato Salad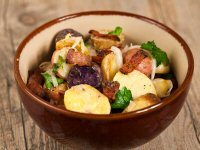 Serves: to serve 4
Prep Time: 10 Minutes
Cook Time: 45 Minutes
Ready In: 55 mins
Ingredients
6 medium-sized - potatoes
4 - 6 oz - thick sliced smoked streaky bacon (side bacon)
½ - red oinion
1 tablespoon - plain flour (all-purpose flour)
6 fl oz - chicken stock
3 fl oz - white wine vinegar
1 tablespoon - Dijon mustard
1½ tablespoons - sugar
  - salt and pepper
2 tablespoons - chopped flat-leaf parsley leaves
Directions
Without peeling them, place the potatoes in a large pan, cover by about 2" (5cm) with salted water and bring to a boil. Cook until the potatoes are tender, about 20-25 minutes. When the potatoes are cooked, drain, transfer to a large bowl, and keep warm.

Peel and chop the onion. Roughly chop the bacon and cook in a small saucepan over medium-high heat, stirring frequently, until crispy and the fat has been rendered, (about 4-5 minutes). Lower the heat to medium, add the chopped onion and cook, stirring, until translucent, (about 6-7 minutes). Stir in the flour and cook for 45 seconds more. Add 2 teaspoons of salt, the chicken stock, white wine vinegar, Dijon mustard and sugar. Bring to the boil whilst whisking constantly. Remove from the heat.

Using your hands, rub the skins off the potatoes (if you are using new potatoes, don't bother peeling them). Cut the potatoes in half lengthwise, then cut crosswise into ¼" (6mm) thick slices . Return the potatoes to the large bowl and pour the vinegar mixture over, toss to coat. Toss in the chopped parsley and season with freshly-ground black pepper to taste. Transfer to a serving platter and serve immediately.