Ginger Marmalade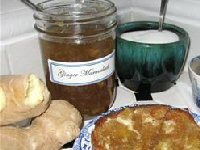 Serves: makes 2 x 500g jars
Prep Time: 15 Minutes + waiting
Cook Time: 1 Hour 30 Minutes
Ready In: 1 hr 45 mins
+ waiting
Ingredients
10 oz - fresh ginger
1½ pints - water
2 lb - caster (superfine) sugar
3 oz - liquid pectin
Directions
Peel the ginger root and divide it into two pieces. Cut one half into small cubes a bit less than ¼" (5mm) across and grate the other half.

Put all the ginger into a large pan and cover with the 1½ pints (900ml) water. Apply a medium heat and bring to the boil then reduce the heat until the water is just simmering. Cover the pan and continue to simmer (adding more water if needed) until the ginger is tender (about 1¼ hours). Allow to cool a little before straining through a fine sieve. Retain all the ginger plus 4fl oz (120ml) of the liquid. Place the cooked ginger and the retained liquid in a bowl for at least 4 hours (or, better still, overnight) in a fridge or cool place.

When the ginger is thoroughly cooled, place into a large, heavy-bottomed pan and stir in the sugar. Bring it to the boil and boil hard for one minute, stirring constantly. Stir in the liquid pectin then reduce the heat to very low and cook, stirring all the time, for 7 more minutes. Skim and discard any foam from top of the marmalade then spoon into clean, sterilized jars. Seal with appropriate lids and process them (see notes below). Stored in the fridge your home-made Ginger Marmalade will keep for months.

Make sure your storage jars are sterile before adding the marmalade. To sterilize the jars wash and rinse them (and the lids), then dry them in a moderate oven (Mk 4 - 350ºF - 180ºC) for 15 to 20 minutes. Keeping them hot will also prevent the jars from breaking when you fill them with the hot preserve.

PROCESSING YOUR FILLED JARS: Fill the jars to within ¼" (6mm) of the top. Wipe any spilled preserve off the top, seat the lid and tighten. Then put them into enough boiling water to keep the jars covered with at least 2" (5cm) of water (This is where a very large pot and a pair of jar tongs comes in handy!)

Gently boil the jars for 5 minutes (longer if you live at high altitude). Living at sea level, I begin taking the jars out after 5 minutes, so if I'm making a lot, the last ones may have been processed for 7 or 8 minutes. That's fine, but don't process them for too long, or the jam will turn dark and go runny.