Ham, Pea and Mint Pasties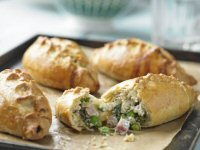 Serves: to make 4 large pasties
Prep Time: 10 Minutes
Cook Time: 1 Hour
Ready In: 1 hr 10 mins
Ingredients
2 oz - butter
2 small - onions
7 oz - frozen peas
5 oz - thickly sliced ham (or gammon)
15 - 20 - mint leaves
8 oz - ricotta
  - salt & pepper
12 oz - ready to use short crust pastry
1 - egg
Directions
Peel and finely chop the onions, chop the ham into small chunks and finely chop the mint leaves. Melt the butter in a frying pan, add the chopped onion and gently sweat for 10-15 minutes until really soft (keep the heat low, so as not to make the onion change colour). Stir in the peas for 1 minute then turn off the heat and stir in the ham, mint and ricotta. Season with salt and freshly ground black pepper.

Divide the pastry into four equal pieces and, on a lightly floured surface, roll each piece to form a neat 6"-7" (15cm-18cm) circle (you can cut round a saucer or small pan lid). Beat the egg and use it to brush the edges of the pastry. Spoon a quarter of the filling into the middle of the pastry, then bring up opposite sides and seal. Crimp to make a pasty shape. Carefully lift onto a baking sheet and repeat with the rest of the pastry. Brush the finished pasties all over with egg.

Bake in a preheated moderate oven (Mk 4 - 350ºF - 180ºC) for 35-40 minutes until golden and crisp. Leave to cool slightly, then serve either warm or cold with a little salad.