Honey and Marmalade-glazed Gammon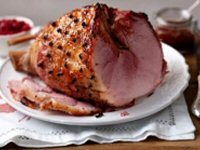 Serves: to serve 8 - 10
Prep Time: 20 Minutes
Cook Time: 4 Hours
Ready In: 4 hrs 20 mins
Ingredients
FOR THE GAMMON
10 lb - gammon joint
  - fresh orange juice
2 - onions
8 - cloves (plus extra for studding the gammon)
4 - bay leaves
FOR THE GLAZE
4 oz - soft brown sugar
3 - oranges
3 tablespoons - clear honey
3 heaped tablespoons - orange marmalade
3 tablespoons - wholegrain mustard
Directions
Place the gammon joint into a large, deep pan and cover with water. Bring to the boil, then remove from the heat and drain off the water. Return the gammon to the pan, pour in enough orange juice to cover half of the gammon, then add enough cold water to cover the gammon completely.

Peel the onions and cut in two. Push two cloves into each onion half and add to the pan along with the bay leaves. Cover with a lid and bring to the boil, then reduce the heat to a simmer. Cook gently for three hours, adding more hot water to the pan as necessary.

Remove the gammon from the pan, allow to cool a little, then remove the skin, leaving behind a thin layer of fat. Score the gammon in a diamond pattern with the tip of a sharp knife. Stud the centre of each diamond with a clove. Place the joint into a large roasting tin.

For the glaze, mix together the sugar, honey, marmalade and mustard in a bowl. grate (shred) the zest off the three oranges and squeeze the juice from two of them. Add the zest and juice to the bowl and mix until well combined. Spoon the glaze evenly over the gammon.

Roast the gammon in a preheated moderate oven (Mk 4 - 360ºF - 180ºC) for 45 minutes, basting frequently with the glaze and juices from the roasting tin, until the gammon is cooked through and golden-brown all over.

Set aside to rest, then carve into thick slices and serve with Potato and Pea Nests. Alternatively, the gammon can be eaten cold as part of a cold platter.