Hungarian Goulash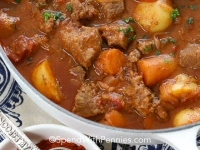 Serves: Serves 6
Prep Time: 30 Minutes
Cook Time: 2 Hours 15 Minutes
Ready In: 2 hrs 45 mins
Ingredients
4 - large onions
1lb 12oz - stewing beef
1 - red bell pepper
1 can - (14oz - 400g) chopped tomatoes in rich tomato juice
4.25 pints - beef stock (from cubes)
2 tablespoons - paprika
1lb 12oz - potatoes
2 tablespoons - duck fat, goose fat, or beef fat
1 - cucumber
1 tablespoon - lemon juice
1 tablespoon - crême fraîche
Directions
Peel and chop the onions and add to a large pan with 2 tablespoons of duck, goose or beef fat. Heat gently for 10-12 minutes to soften (don't allow them to brown). Meanwhile, cut the beef into cubes of about 1¼" - 3cm or more. Add the meat to the onions along with the paprika, salt, and freshly ground black pepper. Stir well and regularly to allow the meat to brown on all sides (about 5 minutes).

Meanwhile, peel the red pepper, remove the seeds and cut the flesh into thin strips. Add these, along with the chopped tomatoes and their juice to the pan. Add the beef stock and stir. Bring to the boil then reduce the heat until the liquid simmers. Leave to cook for 1½ to 2 hours, stirring from time-to-time until the meat is tender.

While the meat is cooking, peel the potatoes and cut into pieces roughly the same size as the meat (1¼" - 3cm or more). Add these to the pan and cook for about 15-20 minutes until a fork sinks easily into the potatoes. Season to taste with more salt, pepper and paprika, then serve piping hot.

While the potatoes are cooking, peel and thinly slice a cucumber. Squeeze a little lemon juice over the slices then add a spoonful of creme fraiche and mix. Sprinkle some paprika over the top to serve. The alternate tastes of spicy hot goulash with cold, fresh cucumber, is a delight.