Hyderabadi Chicken Biryani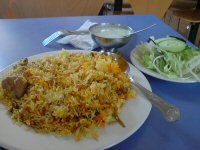 Serves: to serve 4
Prep Time: 20 Minutes
Cook Time: 40 Minutes
Ready In: 1 hr
Ingredients
1lb 4oz - chicken pieces
1 lb - Basmati rice
1¾ pints - water
3 - bay leaves
2 - cloves
2 sticks - cinnamon
2 - black cardamom pods
2 - green cardamom pods
1 teaspoon - salt
2 tablespoons - ghee (clarified butter or drawn butter)
10 - mint leaves
1 tablespoon - javeri mace
1 tablespoon - lime juice
4 medium - onions
½ tablespoon - saffron
FOR THE MARINADE
2 medium - onions
2 - green chilies
2 tablespoons - ginger-garlic paste
1¼ pint - natural youghurt
2 tablespoons - chopped coriander leaves
6 - black peppercorns
½ teaspoon - chili powder
½ teaspoon - salt
¼ teaspoon - cumin seeds
¼ teaspoon - coriander powder
2 tablespoons - oil or ghee (clarified butter or drawn butter)
Directions
Peel and chop all six onions and fry them gently in vegetable oil for about 6-8 minutes to soften them. Finely chop the green chilies then, for the marinade, take a large bowl and mix together the ginger-garlic paste, yoghurt, chopped green chilies, coriander leaves, pepper corns, chili powder, salt, cumin and the coriander powder. Add in one third of the fried onions (about 2 onions) and the oil or ghee and mix all the ingredients into a paste. Add in the chicken and make sure each piece is well coated in the marinade.

Take a large pan and mix together the water, bay leaves, cloves, cinnamon, cardamoms and salt. Bring the water to the boil and add the rice. Boil for about 7-8 minutes until the rice is about half cooked then, using a colander, drain off the water and discard the bay leaves (you can wrap all the herbs in a muslin cloth if you wish - like a bouquet garni. It makes them easier to remove.)

Spread the marinated chicken along with the marinade over the base of a deep non-stick pan. On top of that, add a layer of part-cooked rice then drizzle two tablespoons of ghee on top. Add the remaining half cooked rice, the mint leaves, mace, lime juice, saffron and the remaining fried onion layered on top of the existing rice.

Seal the pan firmly with a tight-fitting lid and cook for 30 minutes on a low heat. After 30 minutes, remove the pan from the heat but do not remove the lid for a further 10 minutes. Gently combine the rice and the chicken and serve hot with raita and a curry of your choice.