Idli with Coconut Chutney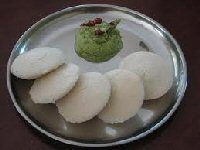 Serves: to serve 8
Prep Time: 30 Minutes + waiting
Cook Time: 25 Minutes
Ready In: 55 mins
+ waiting
Ingredients
FOR THE IDLI
4 oz - black gram
10 oz - rice
4 oz - rice flakes
½ teaspoon - salt
½ teaspoon - baking soda
FOR THE SEASONING
1 tablespoon - vegetable oil
½ tablespoon - mustard seeds
1 pinch - asafoetida
4 - 5 - curry leaves
FOR THE CHUTNEY
4 tablespoons - grated coconut
4 - roasted split chickpeas
4 - red chilies
4 - curry leaves
1 grapefruit-size - tamarind
1 teaspoon - chopped coriander or cilantro leaves
- salt
Directions
Idli is made with a 1:4 mixture of black gram (urad dal) and rice. Wash the black gram and soak it overnight in cold water. In a separate bowl soak the rice and the rice flakes together overnight.

To prepare the batter for the Idlies, drain the water from the black gram and blend them to a smooth paste without adding too much of water. 3-4 fl oz (100 ml) of water can be added - but no more. Check for air bubbles on the surface of the batter. The more the bubbles, the better. Transfer the black gram batter to a large mixing bowl.

Blend the rice and rice flakes until it is smooth and becomes a fine paste (you shouldn't have to add any water). Add this paste to the mixing bowl with the black gram batter. Stir in the salt and the baking soda and leave the mixture to ferment overnight in a warm place. The batter will expand to about 1½ times its original volume, so make sure you have used a good-sized mixing bowl.

For the Chutney, if the coconut is frozen, be sure it's fully defrosted before using. Mix all the chutney ingredients together (grated coconut, roasted split chickpeas, red chilies, curry leaves, tamarind, coriander, and a pinch of salt) and place them in a blender. Pulse until it becomes like a stiff dough (don't allow the mix become too fine or runny. It should remain a little 'chunky'). If necessary you can add a little water, but don't overdo it or the chutney becomes too watery which spoils the taste.

For the seasoning, put a tablespoon of vegetable oil in a small pan and bring up to heat, Add in the mustard seeds, and the curry leaves, cook for two or three minutes abd stir into the chutney.

If you can get hold of the special idly moulds available in good Asian stores, that's fine. If not, use small baking cups (strong ones and not paper). Grease the base with ghee (clarified butter or drawn butter) and spoon the batter into the moulds. Steam cook them over a covered bain marie for around 10-15 minutes. Remove from the heat and allow them to cool for a while, then take a broad spoon and carefully remove the soft idlis from the moulds.

Serve hot with the coconut chutney.