Italian Style Burger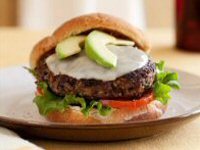 Serves: to serve 4
Prep Time: 10 Minutes
Cook Time: 10 Minutes
Ready In: 20 mins
Ingredients
FOR THE TUSCAN BURGERS
1 lb - lean minced beef (ground beef)
¼ - red onion
10 - 12 - fresh flat parsley leaves
1½ level tablespoons - Pecorino Romano
1 - egg
  - salt and pepper
FOR THE TOPPINGS
4 slices - Provolone cheese
2 - lettuce leaves
1 - ripe avocado
1 - tomato
4 - burger buns
Directions
In preparation, peel and finely chop ¼ red onion, finely chop the parsley leaves, grate the Pecorino and separate the egg yolk from the egg white. Halve the avocado then pit it, peel it and slice it. Thinly slice the tomato.

In a large bowl, mix the ground beef, chopped onion and parsley, grated Pecorino, and the egg yolk. Season with salt and freshly ground black pepper, mix well until all the ingredients are evenly distributed then divide the mixture in four equal parts, Dust your hands with a little flour and shape your burgers.

Preheat the barbeque or the oven grill to a medium-high heat and grill the burgers for 3-4 minutes on each side for medium-rare (4-5 minutes each side for medium-well). Add the provolone cheese slices on top of the burgers for the final minute of grilling so that they melt a little.

Place the burgers on a plate to rest for 3-4 minutes. Meanwhile, lightly toast the burger buns. Serve the burgers on top of a bed of lettuce and tomato and add the avocado slices on top.