Kaikari Vegetable Stew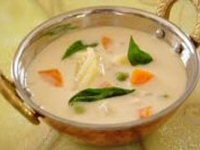 Serves: to serve 6
Prep Time: 20 Minutes
Cook Time: 45 Minutes
Ready In: 1 hr 5 mins
Ingredients
2 - carrots
2 medium - potatoes
8 oz - green beans (French or squeaky or string bean)
1 medium - cauliflower
2 - onions
4 - green chilies
10 - 12 - curry leaves
1 inch - fresh ginger
4 cloves - garlic
4 tablespoons - coconut or vegetable oil
2 - bay leaves
2 - star anise
2 x 1 inch - sticks of cinnamon
½ pint - coconut milk
4 oz - frozen green peas
  - salt
½ teaspoon - garam masala powder
Directions
In preparation, peel and cut the carrots and potatoes into equal sized cubes, about 1" (2.5cm). Slice the beans and cut the cauliflower into small florets. Peel and slice the onion, slit the green chilies, roughly chop the curry leaves and peel and grate (grind) the ginger and the garlic.

Place the carrots, potatoes, beans and cauliflower into a large pan of salted water and bring to the boil. Cook over a medium heat for 10-12 minutes until the vegetables are becoming tender but are still quite firm, then drain off the water.

In a large, deep pan, heat the oil then add the bay leaves, star anise, ginger, crushed garlic and cinnamon and fry gently until they release their flavour. Add the sliced onion, curry leaves and green chilies and sauté gently until the onions are light brown.

Add the cooked vegetables to the pan and sauté everything for a couple of minutes. Pour in the coconut milk, bring to the boil then reduce the heat and simmer until the liquid has reduced by half. Add in the frozen green peas, season with salt to taste and sprinkle in the garam masala. Simmer for a further 5 minutes and serve hot.