Macaroni and Cauliflower Cheese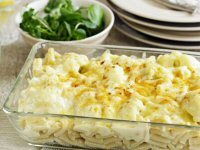 Serves: to serve 4
Prep Time: 5 Minutes
Cook Time: 30 Minutes
Ready In: 35 mins
Ingredients
1 medium-sized - cauliflower
9 oz - macaroni
1 oz - butter
2 tablespoons - plain flour (all-purpose flour)
2 teaspoons - English mustard powder
1 pint - milk
  - salt and pepper
6 oz - Cheddar cheese
Directions
Cut away the main stem of the cauliflower and separate into small florets. Wash before cooking, then cook in boiling, salted water for about 10 minutes. Meanwhile, boil a kettle of water. After 10 minutes, drain the water from the cauliflower and replace with fresh boiling water from the kettle. Add a little salt and cook for a further 8-10 minutes until tender. (Replacing the water during cooking removes that strong 'cauliflower' smell.)

Meanwhile, cook the macaroni following pack instructions (usually about 7-8 minutes in boiling water). Drain both the cauliflower and the macaroni well and mix together

While the cauliflower and macaroni are cooking, melt the butter in a pan, then stir in the flour and mustard powder and cook for 2 minutes. Gradually add the milk, stirring all the time to get a smooth sauce. Grate the cheese and add three-quarters of it to the pan. Season with salt and freshly-ground black pepper and continue to cook gently until the cheese has melted.

Stir the cheese sauce into the macaroni and cauliflower then transfer to an ovenproof dish. Sprinkle the remaining cheese over the top and melt under a hot grill (broiler) until golden and bubbling. Serve hot.