Mackerel and Bacon Salad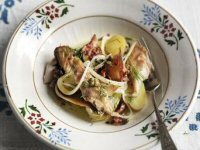 Serves: to serve 4
Prep Time: 10 Minutes
Cook Time: 20 Minutes
Ready In: 30 mins
Ingredients
FOR THE SALAD
1 - onion
3 tablespoons - white wine vinegar
1 lb - salad potatoes
6 rashers (slices) - smoked streaky bacon (side bacon)
2 whole or 4 fillets - smoked makerel
FOR THE DRESSING
2 tablespoons - Dijon mustard
1 tablespoon - capers
2 tablespoons - white wine vinegar
  - salt and pepper
6 tablespoons - olive oil
6 sprigs - dill
Directions
Peel and finely slice the onion into rings and place them into a small bowl with the white-wine vinegar. Set aside for at least 10 minutes, tossing occasionally. This will slightly soften the onion and remove any harshness of taste.

Boil the potatoes in deep, generously salted water for about 15 minutes until they are tender. Meanwhile, preheat the grill (broiler) to a medium high heat and line a baking sheet (broiler pan) with greaseproof paper. Lay the bacon out flat on the lined baking sheet and grill for 10 minutes until crisp.

Meanwhile, peel the skin off the mackerel and flake the flesh in good-size chunks into a large bowl. Make the dressing in another bowl by spooning in the mustard then drain the capers and add to the mustard. Pour the white wine vinegar over, add a little salt and freshly-ground black pepper and a few generous glugs of olive oil (6 tablespoons if you prefer accuracy!). Remove the softened onions from the vinegar and add to the dressing, then stir well. Chop the dill and add half to the dressing and half to the bowl with the mackerel.

When the potatoes are cooked (about 15 minutes), drain and cut them in bite-size pieces, leaving the skin on. Tip them into the dressing and stir gently to absorb all the flavours. Spoon over the flaked mackerel. Snip small squares of the crisp bacon (about 1½" - 4cm) over the salad and toss it together before serving warm.