Manx-style Breakfast Sausage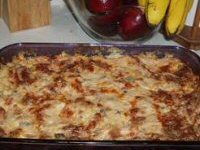 Serves: to serve 6 - 8
Prep Time: 20 Minutes + waiting
Cook Time: 1 Hour 30 Minutes
Ready In: 1 hr 50 mins
+ waiting
Ingredients
1 lb - pork sausage meat (breakfast sausage)
6 - 8 slices - white bread
1 lb - Cheddar cheese
6 large - eggs
½ teaspoon - salt
  - pepper
¾ teaspoon - English mustard powder
1¾ cups - milk
10 oz can -
condensed
cream of mushroom soup
additional 4 fl oz - milk
Directions
Heat a large frying pan or skillet over medium-high heat and cook the sausage meat for about 5-8 minutes, stirring and breaking it with a wooden spoon until crumbly and evenly browned. Drain and discard any excess fat.

Remove the crusts from the bread and cut into cubes. Lightly grease a 9" x 12" (23cm x 30cm) baking dish or casserole dish and spread the bread cubes over the bottom. Sprinkle the browned sausage over the bread and grate (mince) the Cheddar cheese over the sausage.

Beat the eggs in a mixing bowl until smooth. Add the the salt, mustard powder, and 480ml of milk, then whisk until evenly blended. Pour the egg mixture over the bread cubes and sausage and grind a little fresh black pepper over the top. Cover and refrigerate overnight.

Whisk together the cream of mushroom soup and the 120ml milk and pour it over the sausage-cheese layers. Bake in a preheated cool oven (Mk 2 - 300ºF - 150ºC) for about 1½ hours until firm and golden brown.