Mighty Manx Mash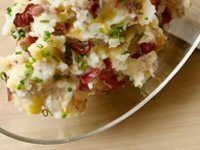 Serves: to serve 6
Prep Time: 10 Minutes
Cook Time: 20 Minutes
Ready In: 30 mins
Ingredients
2 lb - potatoes
8 rashers (slices) - smoked streaky bacon (side bacon)
2 oz - butter
7½ fl oz - milk
small bunch - fresh chives
4 oz - extra-mature cheddar cheese
- salt and pepper
Directions
Finely chop the chives and cut the cheese into small cubes (about ½" - 1cm). Peel the potatoes and cut them into pieces of roughly equal size (A medium-sized potato is usually cut into about 6 pieces). Rinse the potatoes to remove any surface starch. Now place them in a large pan with sufficient salted water to cover them. Bring the water to the boil then turn down the heat and cover the pan so that it continues to boil gently.

Cooking time can vary depending upon the type of potato and the texture. Generally, however, somewhere between 15 - 20 minutes is sufficient. When you think that the potatoes are close to being cooked, pierce one or two of them with a fork. If the fork penetrates easily with little resistance, the potatoes are cooked. Remove the pan from the heat and drain off the water.

Meanwhile, in a large frying pan (skillet), cook the bacon for about 8-10 minutes over medium heat until the fat is rendered and the bacon is crisp. Remove from the pan, drain on a paper-towel-lined plate and chop the rashers into small pieces.

Drain the potatoes, then add the butter and about half of the milk and, using a potato masher, begin to break up and mash the potatoes. Add more milk (or cream if you want to be decadent) until the texture is soft and light. Stir in the chives and the cheese, fold in the bacon then check the seasoning. Serve hot.