Mini Manx Beef Burgers with Blue Cheese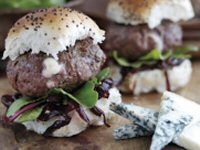 Serves: to serve 4
Prep Time: 30 Minutes + waiting
Cook Time: 20 Minutes
Ready In: 50 mins
+ waiting
Ingredients
1 lb - lean minced beef
2 teaspoons - English mustard
1 clove - garlic
1 - egg
  - salt and pepper
4 oz - Gorgonzola
2 tablespoons - mayonnaise
8 - mini burger buns
  - salad leaves
FOR THE BALSAMIC ONIONS
2 large - red onions
1 tablespoon - butter
1 tablespoon - brown sugar
1 tablespoon - Balsamic vinegar
Directions
In a mixing bowl, mix the beef with 1 teaspoon of English mustard (that's the bright yellow stuff that will lift the top of your head off, on it's own!). Peel and crush the garlic and add to the meat along with the egg (quickly beaten). Blend this mixture together with your hands and season to taste with salt and freshly ground black pepper.

Lightly dust a flat worktop with flour and form 16 thin flat patties with the meat. Sandwich two patties with approximately 1 teaspoon of crumbled Gorgonzola and press the edges together well to form a tight seal. Chill in the fridge for 30 minutes (or more).

Meanwhile, peel and slice the onions and fry them very gently in a little butter until they become soft (about 10 minutes). Stir in the brown sugar and balsamic vinegar and cook for a further 1-2 minutes until the onions have caramelised.

Cook the burgers either on a hot barbecue, a hot griddle or under the grill for 3-4 minutes on each side until cooked through (the cheese needs to melt).

While the burgers are cooking, cut the buns in half. Mix the mayonnaise and remaining teaspoon of English mustard and spread a little on each burger bun, then lay a few salad leaves on the bottom halves. Add a Mini Manx Beef Burger with Blue Cheese onto each bun, spoon over some caramelised onions and top with the other half of the bun.