Monk Fish in Bacon with Parsley Cream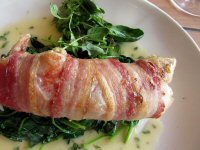 Serves: to serve 4
Prep Time: 10 Minutes + waiting
Cook Time: 25 Minutes
Ready In: 35 mins
+ waiting
Ingredients
1 whole - monkfish
20 rashers (slices) - (thin sliced) smoked streaky bacon (cured side bacon)
FOR THE SAUCE
4 tablespoons - crême fraîche
handful - fresh parsley
1 - lemon
- salt and pepper
Directions
Rinse the fish in cold water and dab dry. Lay rashers of bacon (slightly overlapping) vertically on a worktop. Lay one of the monkfish fillets horizontally across and roll the bacon round the fish. Secure the bacon with wooden toothpicks if necessary. Repeat for the second fillet the wrap both in cling film and place in the fridge for between ½ hour and 1 hour.

Flash fry the fish and bacon rolls in a hot frying pan, turning until the bacon is golden all over (about 7-8 minutes in total). Transfer the fillets onto a baking sheet and bake in a preheated moderate oven (Mk 4 - 350ºF - 180ºC) for about 12-15 minutes.

Meanwhile, prepare the cream sauce... Place the crême fraîche in a small pan. Finely chop the parsley and add to the cream. Remove the zest from the lemon and add to the pan. Season with a little salt and pepper and warm the cream until it just bubbles.

Remove the fish from the oven, take out the wooden skewers and cut the fish into required lengths (once you have made the first cut, you can check whether the fish is cooked or whether it needs to go back in the oven for a few minutes). Spoon some of the parsley cream over the top and serve hot.