Paella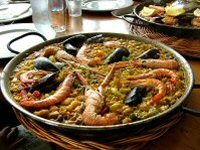 Serves: to serve 4
Prep Time: 10 Minutes
Cook Time: 1 Hour
Ready In: 1 hr 10 mins
Ingredients
4 - chicken portions (thigh or breast)
½ pint - white wine
1 - bouquet garni
14 oz - long grain rice
2 tablespoons - olive oil
1 - red pepper
2 - onions
2 cloves - garlic
½ pint - water (approx)
2 doses - saffron powder
  - salt and pepper
4 oz - frozen prawns
8 oz - frozen seafood cocktail **
4 oz - frozen peas (petits pois)
Directions
Place the prawns and seafood cocktail into a sieve (strainer) and allow to defrost, retaining the liquids in a bowl. (Obviously this is not relevant if you are using fresh seafood - then you simply need to peel and prepare it)

Pour approximately half of the wine into a large frying pan or paella pan and add the bouquet garni, then add the chicken portions. Poach over a moderate heat for 20-30 minutes. Allow the chicken to cool a little, then remove any skin. Strain the juices that remain in the pan through a sieve (strainer) and retain the stock along with the juices from the defrosting seafood.

Meanwhile, peel and crush (mince) the garlic, core and seed the red pepper and chop it into small pieces, skin and chop the onion. Pour the Olive oil into the same frying pan or paella pan in which the chicken was cooked, add the garlic, red pepper and onion and gently fry for 5-7 minutes to soften. Add the rice and turn it for a minute in the oil until it is glistening and golden.

Add the remaining white wine to the juices from the defrosted seafood and, if necessary, add water to make the total liquid content up to 20fl oz (600ml or 1pt). Pour this over the rice, heat to simmering point, then stir in the saffron powder. Cover the pan either with a tight fitting lid or with aluminium foil and leave it to cook for 10 minutes (without even peeping at it!).

Remove the cover. By now the rice will have taken on a golden saffron hue and most of the stock liquid will have been absorbed. Add salt and freshly ground pepper to taste then add the prawns, seafood cocktail and cooked chicken portions. Cover and continue to cook for a further 5 minutes. Add the frozen petits pois and cook for 5 more minutes, stirring well to mix all the ingredients. By now, the rice should be moist, but not wet.

Take the paella pan straight to the table for serving.

** If you have problems finding frozen seafood cocktail, you can buy small tins or jars of mussel, squid and clams in any proportion you want to make up 8oz (225g).