Pilaf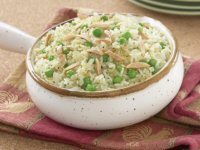 Serves: to serve 4
Prep Time: 10 Minutes
Cook Time: 20 Minutes
Ready In: 30 mins
Ingredients
2 tablespoons - sunflower oil
1 cup - long grain rice
1½ cup - chicken stock
1 teaspoon - salt
1 - onion
1 clove - garlic
1 oz - blanched whole almonds
1 oz - raisins
1 teaspoon - salt
3 - tomatoes
Directions
Heat 1 tablespoon of the oil in a large pan, then add the rice, the water and the salt. Bring to the boil, cover tightly and simmer for about 15 minutes until the liquid has been absorbed and the rice is tender.

Meanwhile, peel and chop the onion, peel and finely slice the garlic and skin, deseed and chop the tomatoes. Heat the other tablespoon of oil in another pan, add the onions, garlic and almonds and fry on a medium heat until they are a golden brown. Add the raisins and chopped tomato flesh and cook for 5 minutes.

Transfer the rice to a warmed serving dish, flaking with a fork to separate the grains. Pour the onion and tomato mix from the other pan over the top and mix with a fork until well blended. Serve hot.