Potato Gratin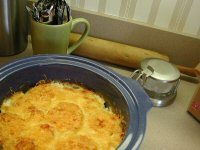 Serves: to serve 4
Prep Time: 10 Minutes
Cook Time: 1 Hour
Ready In: 1 hr 10 mins
Ingredients
1 tablespoon - butter
4 fl oz - milk
¼ pint - double cream (heavy cream)
1 - bay leaf
1 clove - garlic
  - salt and pepper
3½ lb - potatoes
1 tablespoon - dried thyme
2 tablespoons - freshly grated Parmesan cheese
Directions
Preheat the oven to moderately hot (Mk 6 - 400ºF - 200ºC). Butter the inside of an ovenproof dish with a depth of at least 2" (5cm). Peel and finely chop the garlic. Peel and thinly slice the potatoes.

Pour the milk and cream into a large pan with the bay leaf and garlic. Bring to the boil, then simmer gently for 2 minutes. Remove from the heat and season with salt and freshly ground pepper.

Rinse the potatoes in cold water to remove any excess starch then add them to the pan along with the thyme and stir well. Spoon the contents of the pan into the ovenproof dish and shake to even everything out. Sprinkle the top with Parmesan cheese then cover with an oiled piece of aluminium foil. Bake for 45 minutes. Remove the foil and bake for a further 10 minutes. Serve hot.