Pulled Pork with Pineapples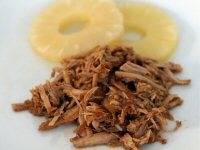 Serves: to serve many
Prep Time: 20 Minutes
Cook Time: 4 Hours
Ready In: 4 hrs 20 mins
Ingredients
4 tablespoons - olive oil
3 lb - pork shoulder
  - salt and pepper
2 - red bell peppers
4 cloves - garlic
1 - red onion
1 - jalapeño pepper
3 tablespoons - tomato purée (tomato paste)
2 pints - pure pineapple juice (not from concentrate)
1 x 8 oz - tin sliced pineapple
Directions
Put the olive oil into a large deep casserole dish or Dutch oven style pot. Heat, and then add the pork shoulder. Brown the whole piece of meat on all sides. Add a generous couple of pinches of salt and a couple of twist of freshly ground black pepper.

Core and roughly dice the red peppers. Peel and crush (mince) the garlic. Peel and dice the onion and finely dice the jalapeño pepper. Add them all to the pan and sauté for about 2 minutes. Add the tomato purée (paste) and the fresh pineapple juice. And just so you make best use of everything, you can open the can of pineapple slices and tip the juice from there into the pan. Keep the pineapple slices in the fridge till later.

Bring everything to the boil then reduce the heat to a very gentle simmer, put the lid on and let it gently simmer (this is called braising or pot roasting). Cook until the pork is falling off the bone and becomes 'shredded' at the slightest touch. Time can vary but it will take between 4-6 hours. If needed you can add some water. Keep turning the meat and tasting and adjusting salt, pepper and spices to your liking.

Toast some sweet bread rolls and cut the pineapple slices into quarters . To build your ultimate pork sandwich, use a slotted spoon to lift some of that rich pork out of the pan, allow to drain for a moment or two then place it on the sweet bread roll. Top with pineapple pieces and enjoy!