Sally's Short-lived Shortbread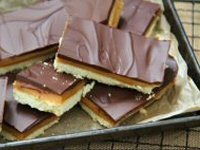 Serves: makes 12 pieces
Prep Time: 35 Minutes + waiting
Cook Time: 25 Minutes
Ready In: 1 hr
+ waiting
Ingredients
4½ oz - butter
2 oz - caster sugar (superfine sugar)
6 oz - self-raising flour
6 oz - dark or milk chocolate (your preference)
FOR THE FILLING
7 oz - condensed milk
4½ oz - butter
4½ oz - caster sugar (superfine sugar)
2 tablespoons - golden syrup (or white corn syrup)
Directions
To make the base, use your hands to cream the butter and sugar together in a mixing bowl until it's light and fluffy. Sift the flour into the bowl and fold into the creamed mixture until everything is well mixed. Use a little extra butter to grease an 8" x 12" (20cm x 30cm) Swiss roll tin (you can use a CLEAN baking tray). Press the mixture evenly into the base of the tin and bake in the centre of a preheated moderate oven (Mk 4 - 350ºF - 180ºC) for for about 12 minutes until golden.

Meanwhile, to make the filling, place the condensed milk, butter, sugar and syrup into a saucepan and bring to a gentle boil, stirring all the time. Reduce the heat so the mixture simmers for 5-10 minutes, stirring continuously and vigorously (bits of caramel will stick to the pan but come away easily and dissolve when moved by the motion of the spoon). Once the sugar has dissolved and the mixture has turned a light caramel colour, remove the pan from the heat and spread the filling all over the cooked base. Leave to cool.

Break the chocolate into small pieces and place in a bowl set over a saucepan of simmering water (make sure the base of the bowl does not actually touch the water). Stir until the chocolate is completely melted and then spread it over the cooled caramel. Leave to set for at least 2 hours then cut into 12 fingers and keep them in the fridge. Then make some more because what was in the fridge will have already disappeared!