Saltimbocca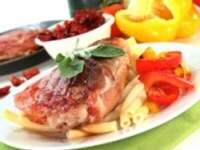 Serves: Serves 6
Prep Time: 30 Minutes
Cook Time: 15 Minutes
Ready In: 45 mins
Ingredients
For the tomato paste
4 large - tomatoes
1 - onion
2 cloves - garlic
  - dried thyme
For the veal
12 thin slices - veal escalopes
  - origano
12 slices - pancetta
5 oz - mozzarella
For the lemon sauce
2 - lemons
2 - egg yolks
2 teaspoons - sugar
6 tablespoons - white wine
2 oz - butter
4 tablespoons - crème fraîche
Directions
First of all, prepare the sauce. Roughly chop 4 large (or 6 medium) tomatoes and place them in a pan. Peel and roughly chop one onion and two cloves of garlic then add to the pan. Add a sprinkling of dried thyme and season with salt and freshly-ground black pepper. Bring the mixture to a rolling boil and allow it to reduce to about half its volume.

When the sauce has reduced, allow it to cool a little then place into a blender and 'liquidate' until it is completely smooth or, if you don't have a blender, press the mixture through a sieve (strainer) and reject the solid remnants. Place the liquid back in the pan and reduce again until it becomes a 'paste'.

One by one, place your veal slices on a worktop. Spread a little tomato paste onto the slice then season with salt and pepper. Sprinkle with a little origano. Place a slice of pancetta and a thin slice of mozzarella onto each. Cut a leaf of basil on the top and roll the meat into a thick sausage shape. Do this for all your escalope slices.

Place them onto an oven-proof serving dish so that they touch each other (that helps them hold their shape), drizzle a little olive oil over the top. Place in the middle of a preheated hot oven (Mk 6 - 375ºF - 200ºC) and cook for 15 minutes

While the veal is cooking, make your accompanying sauce. In a pan, place the juice of two lemons, two egg yolks, two teaspoons of sugar, six tablespoons of white wine and 60g (2oz) of butter. Add a little salt and freshly ground pepper to season and, on a gentle heat, stir with a whisk until the sauce is rich and creamy. Remove from the heat and stir in 4 tablespoons of crème fraîche.

Serve the Saltimbocca with fresh pasta and the lemon sauce.