Shortbread Biscuits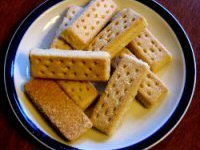 Serves: To make about 25 biscuits
Prep Time: 10 Minutes
Cook Time: 30 Minutes
Ready In: 40 mins
Ingredients
6 oz - butter
3 oz - caster sugar (superfine sugar)
9 oz - plain flour
Directions
Allow the butter to stand at room temperature for a while then place it in a large bowl and beat it with a fork until it's soft and creamy. Add the sugar and then sieve (strain) in the flour into the bowl. Mix well using your hands (The mixture may seem quite dry but this is normal since the heat from your hands will be sufficient to blend the ingredients).

On a lightly floured surface, roll the mixture flat so it is about

1/8

" (3mm) thick and, using a small cup or glass (or a cookie cutter if you have them) about 2"-2½" (5cm-6.5cm) diameter, cut circles of dough and place them on a lightly buttered flat baking tray.

Place the baking tray into a preheated low oven (Mk 3 - 325ºF - 170ºC) for about 25-30 minutes until the biscuits turn a very pale golden colour. Remove the biscuits and place them on a wire cooling rack if you have one - otherwise a large flat plate will work. Immediately prick the top of the biscuits three or four times with a fork and sprinkle a little caster sugar (superfine sugar) over the top..

Once cool, they can be stored in an airtight container for up to one week.