Spaghetti Bolognese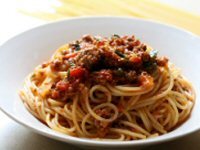 Serves: to serve 4
Prep Time: 20 Minutes
Cook Time: 30 Minutes
Ready In: 50 mins
Ingredients
2 tablespoons - duck fat, goose fat or corn oil
8 oz - lean minced beef (ground beef)
1 x 8oz can - peeled plum tomatoes
2 medium-sized - carrots
3 - 4 oz - mushrooms
2 medium - onions
2 tablespoons - tomato purée
2 cloves - garlic
1 glass - red wine
4 - bay leaves
  - salt and pepper
10 oz - spaghetti
Directions
Put the fat (or oil) in a frying pan and add the minced beef. Fry this gently for a few minutes, stirring all the time, until the beef turns to a beige colour. Remove from the frying pan with a slotted spoon and place into a large saucepan, leaving the surplus juices in the frying pan.

Peel and roughly chop the onions and fry them gently in the meat juices for about 10 minutes until they soften slightly. Turn them occasionally whilst frying and add a little more fat (oil) if required. Again, remove from the frying pan with a slotted spoon and add to the beef in the saucepan.

Peel and finely grate (shred) the carrots. Wash and finely slice the mushrooms. Peel and crush (mince) the garlic and place all the ingredients (excluding the spaghetti) into the pan with the beef and onions (that includes the juice from the tomatoes). Bring the mixture to the boil then immediately turn down the heat and cover and simmer for 30 minutes, stirring from time to time to prevent sticking.

Bring a large pan of slightly salted water to the boil then add the spaghetti. Cook according to the instructions on the packet (usually about 15-20 minutes in boiling water). You can check to see if the spaghetti is cooked by removing a strand on the end of a fork.

When cooked, drain the spaghetti in a colander or large sieve (strainer). Heap servings onto warmed plates and then spoon lashings of Bolognese sauce over the top (remove the bay leaves as you see them). Eat hot.