Spinach and Ricotta Omelette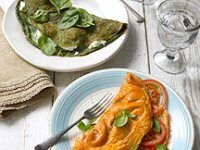 Serves: to serve 2
Prep Time: 10 Minutes
Cook Time: 5 Minutes
Ready In: 15 mins
Ingredients
4 oz - fresh spinach
3 - eggs
3 tablespoons - skimmed milk (skim milk)
1 teaspoon - oil or duck fat
2 oz - Ricotta cheese
  - salt and pepper
Directions
Reserve a few small spinach leaves for garnish, then cook the rest in a small amount of boiling water until the leaves wilt, (about 3 minutes). Drain thoroughly, squeezing out the excess moisture with the back of a spoon. Blend the spinach to a puree with a hand-held stick blender, or chop it very finely.

Beat the eggs and milk together, then stir in the spinach (the mixture will be green). Season with a little salt and freshly ground pepper.

Melt one teaspoon of oil or duck fat in a non-stick frying pan then add the egg mixture and cook for 3-4 minutes, pushing the cooked mixture from the sides to the middle of the pan, so that the uncooked egg flows over onto the surface surface of the pan and cooks. Sprinkle the ricotta cheese on top, fold in half, then serve at once, garnished with the reserved spinach leaves.