Tomato Rice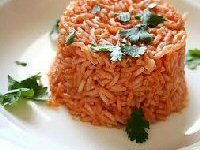 Serves: to serve 3
Prep Time: 10 Minutes
Cook Time: 30 Minutes
Ready In: 40 mins
Ingredients
1 tablespoon - ghee (clarified butter or drawn butter)
1 whole - black cardamom
1 - onion
about ½ inch - fresh ginger
4 cloves - garlic
2 large - tomatoes
1 teaspoon - red chili powder
1 teaspoon - garam masala powder
  - salt
8 oz - basmati rice
1 pint - water
1 teaspoon - chopped coriander leaves (for garnish)
Directions
Wash the rice and allow to soak in fresh water for 10 minutes. Meanwhile, peel and finely chop the onions and garlic, and peel and crush (mince) the ginger. Finely chop the tomatoes.

Melt the ghee in a large saucepan and add the whole black cardamom, chopped onions, crushed ginger, chopped garlic and finely chopped tomatoes. Sauté for one minute then stir in the chili powder and garam masala. Season to taste and continue to sauté for another three minutes.

Drain the rice, add it to the pan and mix well. Pour in the water, bring to the boil then reduce the heat to a simmer and cook, covered, for about 15-20 minutes until the rice is cooked and the water has been absorbed. Garnish with chopped coriander leaves and serve hot.