Turkey Stuffed with Chestnut & Apple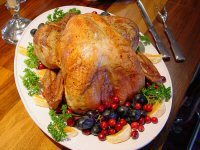 Serves: to serve 8 - 10
Prep Time: 20 Minutes
Cook Time: 3 Hours 45 Minutes
Ready In: 4 hrs 5 mins
Ingredients
1 lb - tin or pack of cooked chestnuts
4 - shallots
1 tablespoon - chopped parsley
1 - egg
  - salt and pepper
1 lb - dessert apples
½ lb - belly pork
1 x 11 lb - oven-ready turkey
2 oz - butter
¼ pint - Madeira Wine
  - grapes, cranberries, apple rings, watercress... to garnish
Directions
For the stuffing, chop the chestnuts, peel and finely chop the shallots and mix together with the parsley, egg and salt and freshly ground pepper to taste.

Peel, core and chop the apples. Place them in a pan and cook for 5 minutes over a medium heat, stirring continuously. Mix into the stuffing along with the belly pork, finely chopped. Put the stuffing into the neck cavity of the turkey, then sew up the opening with thick cooking string.

Place the turkey into a roasting tin, rub the skin with butter and season liberally with salt and freshly ground pepper. Roast in a preheated moderate oven (Mk 4 - 350ºF - 180ºC), basting occasionally, for 3½ - 4 hours.

Transfer the turkey to a warmed serving dish. Add the Madeira to the roasting pan, scrape to deglaze the pan, then place over a high heat and boil for 3 minutes. Spoon over the turkey and serve hot, garnished with your choice - grapes, cranberries, apple rings, watercress - whatever makes your day complete!