Wendy's Lentil Soup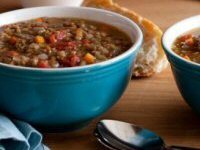 Serves: to serve 6
Prep Time: 30 Minutes
Cook Time: 45 Minutes
Ready In: 1 hr 15 mins
Ingredients
2 tablespoons - olive oil
1 medium - onion
1 small - carrot
1 stick - celery
2 teaspoons - salt
5 oz - split lentils (green or red look best)
8 oz - tomatoes
4 pints - chicken or vegetable stock
½ teaspoon - freshly ground coriander seeds
½ teaspoon - freshly ground toasted cumin
½ teaspoon - freshly ground grains of paradise
Directions
Peel and finely chop the onion, the carrot and the celery. Peel and deseed the tomatoes and chop into small pieces.

Place the olive oil into a large 6 litre Dutch oven or flame-proof casserole dish and set over medium heat. Once hot, add the onion, carrot, celery and salt and sweat for about 6-7 minutes until the onions are translucent. Add the lentils, tomatoes, broth, coriander, cumin and grains of paradise and stir to combine.

Increase the heat to high, bring to a boil then reduce the heat to low. Cover and cook at a low simmer for about 35-40 minutes until the lentils are tender. Serve hot.