Winter's Evening Chilli con Carne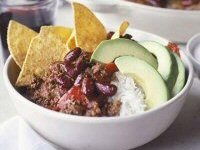 Serves: to serve 4
Prep Time: 15 Minutes
Cook Time: 1 Hour
Ready In: 1 hr 15 mins
Ingredients
2 tablespoons - olive oil
2 large - onions
3 - 4 cloves - garlic
2 tablespoons - chilli powder
2 teaspoons - ground cumin
2 teaspoons - dried oregano
2¼ lb - lean minced beef (ground beef)
1 x 14oz can - chopped tomatoes
2 - beef stock cubes
2 large - red bell peppers (sweet peppers)
10 - sundried tomatoes
1 x 14oz can - red kidney beans
  - salt and pepper
Directions
Peel the onions, halve and slice them. Heat the oil in a large, deep pan or flame-proof casserole, and fry the onions gently for 8-10 minutes. Peel and chop the garlic and add it to the pan. Stir in the chilli powder, ground cumin and dried oregano and cook for 1 minute, then gradually add the mince (ground) beef, stirring well until browned. Stir in the tomatoes, add half a can of water, then crumble in the stock and season well with salt and freshly ground black pepper.

Cover and simmer for 25 minutes, stirring occasionally. Deseed the peppers and cut into chunks. Stir these and the sundried tomatoes into the pan and cook for a further 30 minutes (stirring from time-to-time) until the peppers are tender. Drain the liquid from the kidney beans, stir them into the pan and cook for a further 5 minutes to make sure everything is hot.

Serve with avocado and basmati rice or tortilla chips and a bowl of soured cream.