Beef Chow Mein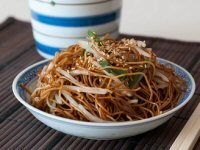 Serves: to serve 4
Prep Time: 30 Minutes
Cook Time: 10 Minutes
Ready In: 40 mins
Ingredients
8 oz - dried egg noodles
12 oz - beef steak
2 tablespoons - groundnut oil *
3 teaspoons - dark soy sauce
2 teaspoons - dry sherry
1 clove - garlic
2 oz - mange-tout **
2 rashers (slices) - smoked bacon
½ teaspoon - sugar
2 - spring onions (a.k.a. scallions or salad onions)
1 teaspoon - sesame oil
Directions
Cook the dried noodles according to the instructions on the packet (usually boiled for 4 or 5 minutes) then drain the water from the pan and replace it with cold water. The noodles will keep this way for several hours.

Remove any fat from the steak then slice it into fine shreds about 2" (5cm) long. Mix the steak with 2 teaspoons of the dark soy sauce and the dry sherry together in a small bowl and leave it to stand for at least 20 minutes (longer if possible). Meanwhile trim the ends off the mange-tout, finely chop the spring onions, cut the bacon rashers (slices) into thin strips and peel and finely chop the garlic.

Heat a large frying pan (or wok), add 1 tablespoon of the groundnut oil and then the shreds of beef. Stir fry for about 2 minutes then remove from the pan with a slotted spoon and set aside.

Drain the noodles, shaking off as much water as possible. Add the other tablespoon of groundnut oil to the pan then reheat it and throw in the chopped garlic. Stir fry for about 10 seconds then throw in the mange-tout and bacon strips. Stir fry these for 1 minute then add the drained noodles, the remaining teaspoon of soy sauce, the sugar and the spring onions. Stir fry for 2 more minutes then add the cooked beef strips.

Continue to stir fry for about 3-4 minutes to thoroughly cook the ingredients, add the sesame oil and give the whole mixture a final few stirs. Turn onto a warmed serving dish and serve with Beef in Oyster Sauce

* Groundnut oil enhances the flavour of any stir fried food. If, however, you don't want to use it, you can substitute corn oil instead.

** Whilst I have suggested mange-tout in this recipe, in fact almost any finely sliced green bean would be just as good.