Horseradish Crusted Salmon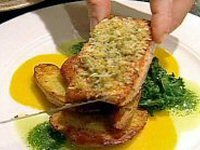 Serves: to serve 4
Prep Time: 20 Minutes
Cook Time: 20 Minutes
Ready In: 40 mins
Ingredients
1 large - potato
3½ oz - butter
  - salt and pepper
4 x 6 oz - salmon fillets
3 tablespoons - single cream (light cream)
3 tablespoons - drained prepared horseradish (horseradish sauce)
Directions
You'll need about an 8oz (250g) potato (or potatoes), peeled and cut into about 6 pieces. Place in a medium saucepan, cover with salted water by 2" (5cm). Bring to a boil over high heat, lower the heat, and simmer until the potato is very tender (about 10-12 minutes). Drain and allow to cool slightly.

Meanwhile, season the salmon all over with salt and freshly-ground black pepper. Preheat a large frying pan or skillet over a medium-high heat and add about 30g of the butter. When the butter foaming subsides, place the salmon in the pan and cook, turning once, until well-browned (about 1½ minutes per side). Transfer to a baking sheet.

Place the cooked potatoes in a bowl with the 2 tablespoons of salt, 30g of the butter, the single cream and the horseradish. Using a fork, mash until fluffy then season with freshly-ground black pepper, to taste.

Melt the remaining butter in a small saucepan. Using your hands, press about ¼ of the potato mixture onto the top of each salmon fillet, to form a thin crust. Lightly brush the potato with the melted butter.

Place a rack about 4" (10cm) down from the grill element and preheat. Place the salmon fillets under the grill and cook (broil) until still slightly pinkish inside and the crusts are golden brown (about 8-10 minutes). Serve immediately on a bed of Baked, Sliced Potatoes and Broccoli.