Seville Pork Chops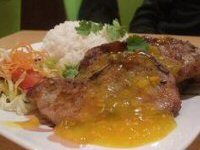 Serves: to serve 4
Prep Time: 15 Minutes
Cook Time: 1 Hour
Ready In: 1 hr 15 mins
Ingredients
1 teaspoon - butter
1 tablespoon - oil
4 - pork chops (loin or fillet of leg)
1 - small onion
3 - oranges
2 tablespoons - lemon juice
4 tablespoons - ginger marmalade
1 teaspoon - cinnamon
3 - sweet apples
3½ fl oz - chicken stock or dry white wine
  - salt and pepper
Directions
Peel and finely chop the onion, Finely grate (shred) the rind from 2 oranges then squeeze the juice from them, Peel and core 2 of the apples and cut into small pieces.

Melt the butter with the oil in a large saucepan then add the chops and fry over a moderate heat for three or four minutes until they are lightly coloured on both sides. Remove with a slotted spoon and put to one side.

Add the chopped onion to the pan and fry gently until it is limp and translucent. Add about ¾ of the grated orange rind, all the orange juice and the lemon juice along with ½ of the marmalade, the cinnamon, the apples and the stock (or wine). Bring the whole mixture to the boil, stirring all the time, then reduce the heat so that the sauce just simmers gently. Place the pork back in the pan and continue to simmer very gently for about one hour (or until the chops are tender).

About 10 minutes before the meat is cooked, prepare the garnish... Core and slice the remaining apple, and cut four slices from the remaining orange. Melt the remaining marmalade in a small pan and add the orange and apple slices. Turn the fruit to coat in the marmalade.

When cooked, remove the chops from the pan with a slotted spoon and keep them hot in a warm oven. sieve (strainer) the sauce, discarding any solids. Cover the bases of 4 warmed dinner plates with the sauce and place a chop on the centre of each. Arrange the orange and apple slices beside each chop and sprinkle with the remaining grated orange rind. Serve immediately with Baked Sliced Potatoes.