Lamb Shanks in Deep Rich Gravy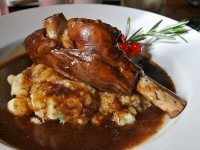 Serves: to serve 4
Prep Time: 15 Minutes
Cook Time: 2 Hours 15 Minutes
Ready In: 2 hrs 30 mins
Ingredients
about 3 lb - lamb shanks (shins)
  - salt and pepper
1 tablespoon - olive oil
2 - onions
1 clove - garlic
6 - anchovy fillets
2 sprigs - rosemary
2 - bay leaves
½ pint - chicken or beef stock
½ pint - red wine
  handful - fresh parsley
Directions
Peel and roughly chop the onions and garlic. Season the lamb shanks with a little salt and freshly ground black pepper. Brown them in a large casserole with the olive oil over a high heat (I use a cast iron 'Dutch Oven' type casserole like you can see here at LeCreuset.com)

When the shanks are lightly browned add the chopped onions and garlic. Chop four of the anchovy fillets and add to the casserole. Add the rosemary and bay leaves, then add the stock and the wine and bring to a simmer. (It doesn't matter whether you use beef stock or chicken stock. Personally I use beef stock to give a slightly richer flavour.)

Bring the liquid to simmering, put the lid on the casserole and cook in a preheated moderate oven (Mk 3 - 325ºF - 170ºC) for two hours, turning the shanks halfway through. Once cooked, remove the shanks and place on a serving dish. Cover with foil and leave to rest in a warm oven.

Meanwhile complete the sauce by adding two or three more chopped anchovies and a handful of chopped parsley. Bring the sauce to the boil, check the seasoning then pour over the resting lamb shanks and serve with Champ and French Style Peas for a filling and hearty meal full of secret, deep flavours.