POULTRY, WILDFOWL & GAME BIRDS

Poultry dishes (particularly chicken) have the benefit of being simple to prepare, low in fat and inexpensive. Chicken is available "oven-ready" from most shops, and chicken portions are economical if you are cooking for just yourself or two people. However if you are catering for more than two people, it is less expensive to buy a whole chicken and 'joint' it - that is, cut the meat off the bones either before cooking or before serving it on he table.
To do this, carefully cut down the centre of the breast of the chicken then ease one breast off the carcass, keeping as close to the bones as possible. Repeat this for the other breast. You can then cut off the complete legs where they join the body. Cut these in to at the joint between the upper thigh and the lower leg. This provides six portions for a fraction of the price of of purchasing them separately. The carcass of the chicken can then be used to make a
chicken stock
*** POULTRY, WILDFOWL & GAME BIRDS ***
CHICKEN RECIPES
DUCK RECIPES
GUINEA FOWL RECIPES
PHEASANT RECIPES
PIGEON RECIPES
TURKEY RECIPES
What To Eat Tonight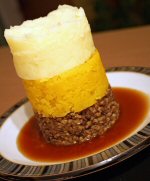 96 Unusual Recipes
There are lots of recipes for some foods, but here we offer a selection of recipes that are truly out of the ordinary. You'll be amazed.

22 Simple Soups
Soup from a packet? You're kidding! Good soups are easy to make and are a whole lot more healthy and wholesome than any commercial stuff.

26 Stupidly Simple Salads
Salads don't have to be plain and boring. Salads can be exciting and filling and simple to prepare. Take a look at some of the ones here.
Recipes That Are Trending Now