1 - EXTREMELY EASY RECIPES

*** BAKING ***
BISCUITS (COOKIES), CAKES & SWEETS
SAVOURY BISCUITS (FOR DIPS AND SPREADS)
Ideal for entertaining, you can load these savoury biscuits with cream cheese or use them as a snack source with a slice of tomato on top.

Preparation: 10 Minutes
Cooking: 10 Minutes
*** BATTER, BREAD, DOUGH & PASTRIES ***
BREAD
Graham's Proper Garlic Bread is so named because I got fed up going to restaurants that claimed to serve garlic bread but produced rubbish instead!

Preparation: 5 Minutes
Cooking: 3 Minutes

Because of the addition of spices, Italian-style Breadcrumbs are great for breading meat, fish, chicken, pork, vegetables.

Preparation: 5 Minutes
Cooking: NIL
DOUGH
PASTRY
*** BEEF & VEAL RECIPES ***
BEEF
VEAL
Veal is the meat of young cattle (calves) that are slaughtered between 20 and 26 weeks old. Veal has a tender texture that once made it a luxury meat.

Preparation: 1 Minute
Cooking: 8 Minutes
*** CHEESE ***
RECIPES THAT INCLUDE CHEDDAR
RECIPES THAT INCLUDE CREAM CHEESE
RECIPES THAT INCLUDE EMMENTAL CHEESE
RECIPES THAT INCLUDE FETA CHEESE
RECIPES THAT INCLUDE GOAT CHEESE
RECIPES THAT INCLUDE GORGONZOLA CHEESE
RECIPES THAT INCLUDE GRUYERE CHEESE
RECIPES THAT INCLUDE LANCASHIRE CHEESE
RECIPES THAT INCLUDE MASCARPONE CHEESE
RECIPES THAT INCLUDE MOZZARELLA CHEESE
RECIPES THAT INCLUDE PARMESAN
RECIPES THAT INCLUDE PEPPERJACK CHEESE
RECIPES THAT INCLUDE SOFT OR CREAMED CHEESE
*** DESSERTS ***
ALL DESSERTS
*** EGG RECIPES ***
ALL EGG RECIPES
*** FISH, SHELLFISH & CRUSTACEANS ***
CRUSTACEANS RECIPES
FISH RECIPES
SHELLFISH RECIPES
*** FRUIT RECIPES ***
ALL FRUIT RECIPES
*** LAMB RECIPES ***
ALL LAMB RECIPES
*** PASTA, NOODLES, COUSCOUS & RICE ***
PASTA RECIPES
RICE RECIPES
Rice is increasingly being used in place of potatoes. Long grain rice (like Basmati) in savoury dishes, and short grain rice in desserts.

Preparation: 5 Minutes
Cooking: 15 Minutes

Here is a nice simple recipe for making sushi rice. Japanese rice is short grain and becomes slightly sticky when it is cooked.

Preparation: 10 Minutes
Cooking: 15 Minutes
*** PORK RECIPES ***
BACON RECIPES
BLACK PUDDING AND WHITE PUDDING RECIPES
PORK & HAM
SAUSAGE & SAUSAGE MEAT RECIPES
*** POULTRY, WILDFOWL & GAME BIRDS ***
CHICKEN RECIPES
TURKEY RECIPES
*** PRESERVES, PICKLES, CHUTNEYS & DIPS ***
DIPS
Avocados are a popular main ingredient in appetizer dips. This recipe is excellent accompanied by Savoury Cheese Biscuits or Savoury Chive Biscuits.

Preparation: 10 Minutes
Cooking: NIL

The rich flavour of sage complemented by the distinctive, but not overpowering, bitterness of curd cheese sets this healthy dish apart from other dips

Preparation: 10 Minutes
Cooking: NIL
PICKLES
This quick Pickled Cucumber recipe is great for serving alongside burgers or in a roast beef sandwich. The taste will knock you out.

Preparation: 25 Minutes
Cooking: NIL
SWEET PRESERVES
Home made Lemon Curd is so easy to make that it's laughable! Here's the recipe my Mom always used... darn good it is too!

Preparation: 10 Minutes
Cooking: 10 Minutes
*** SALADS ***
ALL SALADS RECIPES
*** SAUCES, STOCKS, SALAD DRESSINGS & GRAVY ***
GRAVIES
SALAD DRESSINGS
SAUCES
STOCKS
*** SOUPS ***
ALL SOUPS RECIPES
Chicken Vermicelli Soup is probably the easiest soup you'll ever make. It takes only three minutes to cook and the ingredients are easily available.

Preparation: 4 Minutes
Cooking: 3 Minutes

Clear Vegetable Soup is a straightforward consomée (clear soup) that is extraordinarily simple to make and produces a soup with a crisp, fresh taste.

Preparation: 10 Minutes
Cooking: 15 Minutes
*** VARIOUS ***
ALL VARIOUS RECIPES
A little out of fashion now, thanks to its high fat content, fried bread was a firm favourite on Northern European plates for many years.

Preparation: 2 Minutes
Cooking: 4 Minutes
*** VEGETABLES ***
ASPARAGUS
AUBERGINE (EGGPLANT)
BROCCOLI
BRUSSELS SPROUTS
CABBAGE
CARROTS
CAULIFLOWER
CELERY
CHICK PEAS
COURGETTES (ZUCCHINI)
CUCUMBER
FENNEL
LEEKS
MUSHROOMS
ONIONS
PEAS
POTATOES
PUMPKIN
SPINACH
SWEET POTATOES
TOMATOES
VARIOUS
VARIOUS VEGETABLES
ZUCCHINI (COURGETTES)
What To Eat Tonight

78 Creative Cheese Dishes
Cheese is just so versatile and there are so many choices from hard Parmesan to soft Cream Cheeses. We have recipes to suit all tastes.

147 Fried & Grilled Meals
Fried and Grilled (Broiled) food is usually quick and easy to do. Our whole range goes from stupidly simple to fiendishly complex!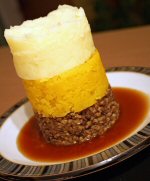 96 Unusual Recipes
There are lots of recipes for some foods, but here we offer a selection of recipes that are truly out of the ordinary. You'll be amazed.
Recipes That Are Trending Now