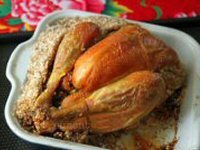 Chicken in a Salt Crust - Poulet a l'ail en Croute de Sel


Preparation Time: 20 Minutes
Cooking Time: 1 Hour 30 Minutes
A Top Choice Recipe for Entertaining
Ingredients for Chicken in a Salt Crust - Poulet a l'ail en Croute de Sel


Currently displaying quantities in
US Imperial
Measurements
to serve 4 - 6:
1 medium-sized
free range chicken
1 x 5oz packet
Boursin (Cuisine) Ail et Fines Herbes
5-6 lb
coarse sea salt or rock salt
1½ lb
plain flour (all purpose flour)
4
eggs
2 teaspoons
rosemary
2 teaspoons
thyme
1 tablespoon
red baies (red or mixed peppercorns will work)
1 tablespoon
black peppercorns
How to Cook Chicken in a Salt Crust - Poulet a l'ail en Croute de Sel
Rinse the chicken and wipe it dry on absorbent kitchen paper. Now comes the tricky bit if you have big hands like me!! Slide a long spoon or fork handle between the skin and the flesh to separate the two, without breaking the skin. Now push Boursin between skin and flesh all around the breasts, legs and thighs of the chicken. Once you have some under the skin, you can manipulate it further using your fingers on the outside. If you have any Boursin left over at the end, put it inside the body of the chicken.

In a very large bowl or pan, mix the coarse salt, flour, rosemary, thyme, baies and peppercorns. Separate the egg whites (you won't be using the yolks) and add these to the salt mix along with some of the cold water. Mix this all together to form a thick 'paste'. It should just hold together in a ball if you squeeze some in your hand. If it's too dry, add another more water or another egg white. If it's too wet, add some flour.
You can either cook your chicken in a very shallow dish (as shown in the photo on the left) or on a flat baking tray. I prefer the latter, having already broken two dishes when eventually cracking open the crust! Place a layer of salt about ½" (1cm) thick on the baking tray (dish) and place the chicken on top then use the rest of the salt to form a shell over the whole chicken. Check for holes or cracks ... there shouldn't be any! (I always make sure I have some spare ingredients - especially coarse salt - in case there isn't enough to cover the whole chicken completely)
Cook in a preheated hot oven (Mk 6 - 400ºF - 200ºC) for 1½ hours (for a large chicken you should cook for 1¾ hours). The crust will now be a golden colour and will be quite hard. But the fun comes when you present this to your guests and ask them to guess what it is! So far, none of my guests have yet succeeded and they've all wanted to come to the kitchen with me to watch me opening 'the beast'.

But a word of warning! I've had to take a hammer and chisel to it before now, to crack the crust! Once cracked, it's fairly easy to prise open (though be careful of the steam - it's darn hot in there!)

Carve the chicken and watch as people drool over the taste! The skin may be a little salty, but not as much as you might imagine, and the flesh is totally moist and carries this amazing taste of garlic and herbs that come with the cheese.
GRAHAM'S HOT TIP:
Me and my big hands!! getting the Boursin between the skin and the flesh is pretty easy on the breast of the bird. However, the legs pose an altogether different problem, so what I do is to cut off the "knuckle" at the end of the leg (where the foot is normally attached). I then trim the skin back just a little and it's enough to be able to spoon some Boursin into the leg. Having already separated the skin using a spoon handle, I can then manipulate the cheese around the legs from th

Reviews of Chicken in a Salt Crust - Poulet a l'ail en Croute de Sel
February 24 2015

Getting the Boursin under the skin was a bit fiddly. Building the shell round the chicken was a bit messy. Presenting and eating this recipe was the best experience in the world. It really was stunning and tasted like the best chicken I have ever eaten. A keeper for sure.

swanV

(6 reviews)

February 11 2015

I'm amazed at how this didn't taste at all salty. I wasn't sure about doing it at first because of all that salt, but all it does is make the skin a little salty. However, with the Boursin on the underside of the skin, it's not at all overpowering. Really a superb recipe that's spectacular when you show guests what you've done. You're right that it takes a bit of opening, but with the help of a hammer, my husband got it sorted fairly quickly! The appearance and taste of the chicken is sublime. Also, when cooking, the smell of the herbs and peppercorns in the crust just fills the whole kitchen. This wasn't a recipe, it was a whole experience!

maryA

(5 reviews)

October 04 2014

This really brought out the showman in me! My wife does all the day-to-day cooking but, when we have guests, I enjoy getting stuck in and doing something special (I still leave her to do the starters and desserts!). So imagine the look of surprise when I marched into the dining room with an unexploded bomb on a dish! It was awesome! And, as predicted in the recipe, everyone wanted o come back to the kichen with me to watch the "grand opening". And, oh boy, what a gorgeous looking bronzed chicken it was when the crust came away. The taste was out of this world - it's probably the single most successful meal I've dome. A definite keeper.

steveS

(4 reviews)
More Delicious Recipe Ideas from NeedARecipe.com
What To Eat Tonight

65 Piles of Pasta, Rice & Noodles
Pasta, Rice and Noodles don't have to be plain and ordinary. In fact there are many complex dishes using these versatile ingredients.

46 Easy Chicken Dinners
Chicken, that most tender and versatile of foods, deserves a place of honor in the chef's 'keepers' file. Take a look at some of these.

6 Preserves & Pickles
Jam, jelly, pickle, chutney, dips, sweet and savory preserves, we have them all so that you can easily find exactly what you want.
Other Chicken Recipes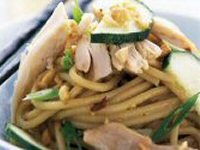 Sesame Noodles with Chicken
Sesame Oil is a true delight and this recipe for Sesame Noodles with Chicken makes full use of it's rich flavours.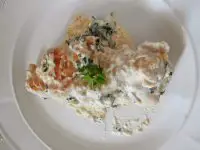 Chicken with Parmesan and Basil
When I don't have much time I often make Chicken with Parmesan and Basil because they're quick to prepare and make a really tasty dish.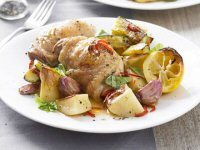 All-In-One Summer Chicken
All-In-One Summer Chicken is inspired by the idea that you can add a selection of vegetables toh chicken portions then oven bake for a simple supper