SALADS

During the summer, it makes a pleasant change to eat something light and simple. Ingredients for salads (tomatoes, cucumber, radishes, lettuce etc.) are abundant and generally inexpensive. In addition, a mixed salad can often be produced from a variety of 'leftovers', which makes it very economical.
It isn't necessary to present dozens of different items to produce an interesting and tasty salad; sometimes a simple plate with just two or three different items can taste just perfect. Much of the fun and enjoyment of a salad is the presentation. A variety of colours, nicely positioned on a plate or contrasting in a mixed salad will actually improve the flavour since the taste buds are activated by sight before food is eaten. Take a little time to find colourful ingredients.
What To Eat Tonight

6 Preserves & Pickles
Jam, jelly, pickle, chutney, dips, sweet and savory preserves, we have them all so that you can easily find exactly what you want.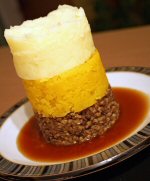 105 Unusual Recipes
There are lots of recipes for some foods, but here we offer a selection of recipes that are truly out of the ordinary. You'll be amazed.

178 Recipes for Kids
If you know what kids like, they're easy to please, even using 'healthy' foods that they normally avoid. It's all in the preparation!
Recipes That Are Trending Now