2 - VERY EASY RECIPES

*** BAKING ***
BISCUITS (COOKIES), CAKES & SWEETS
CAKES, SCONES AND SWEET PIES
The Scone is a small British quick bread of Scottish origin. It's not just popular in the United Kingdom, it's also been 'adopted' by other countries.

Preparation: 10 Minutes
Cooking: 20 Minutes
*** BATTER, BREAD, DOUGH & PASTRIES ***
BATTER
BREAD
DOUGH
Idiyappam forms part of a main course served along with chicken or vegetable curries. Idiyappam is also known as "String Hoppers"

Preparation: 10 Minutes
Cooking: 3 Minutes

Maaki ki Roti (Corn Roti) in Punjabi stands for Maize and roti is Indian flatbread. These are prevalent during the North Indian winters.

Preparation: 10 Minutes
Cooking: 30 Minutes
*** BEEF & VEAL RECIPES ***
BEEF
VEAL
In cookery, a grenadin is a larded fillet, especially one of veal or poultry, glazed with its own concentrated liquor.

Preparation: 5 Minutes
Cooking: 15 Minutes
*** CHEESE ***
RECIPES THAT INCLUDE CAMEMBERT
RECIPES THAT INCLUDE CHEDDAR
RECIPES THAT INCLUDE COMTE
RECIPES THAT INCLUDE EMMENTAL CHEESE
RECIPES THAT INCLUDE FETA CHEESE
RECIPES THAT INCLUDE GOAT CHEESE
RECIPES THAT INCLUDE GORGONZOLA CHEESE
RECIPES THAT INCLUDE GRUYERE CHEESE
RECIPES THAT INCLUDE HAVARTI CHEESE
RECIPES THAT INCLUDE MASCARPONE CHEESE
RECIPES THAT INCLUDE MOZZARELLA CHEESE
RECIPES THAT INCLUDE PARMESAN
RECIPES THAT INCLUDE PECORINO ROMANO
RECIPES THAT INCLUDE PROVOLONE
RECIPES THAT INCLUDE RICOTTA
RECIPES THAT INCLUDE ROQUEFORT
RECIPES THAT INCLUDE SOFT OR CREAMED CHEESE
RECIPES THAT INCLUDE STILTON CHEESE
RECIPES THAT INCLUDE TOMME
*** DESSERTS ***
ALL DESSERTS
*** EGG RECIPES ***
ALL EGG RECIPES
*** FISH, SHELLFISH & CRUSTACEANS ***
CRUSTACEANS RECIPES
FISH RECIPES
SHELLFISH RECIPES
*** FRUIT RECIPES ***
ALL FRUIT RECIPES
*** LAMB RECIPES ***
ALL LAMB RECIPES
*** PASTA, NOODLES, COUSCOUS & RICE ***
GNOCCHI RECIPES
NOODLES RECIPES
PASTA RECIPES
RICE RECIPES
*** PORK RECIPES ***
BACON RECIPES
BLACK PUDDING AND WHITE PUDDING RECIPES
PORK & HAM
SAUSAGE & SAUSAGE MEAT RECIPES
*** POULTRY, WILDFOWL & GAME BIRDS ***
CHICKEN RECIPES
DUCK RECIPES
GUINEA FOWL RECIPES
TURKEY RECIPES
*** PRESERVES, PICKLES, CHUTNEYS & DIPS ***
CHUTNEYS
My son introduced me to this one. It's such a simple recipe but the end result is a wonderful chutney that's perfect with cold cuts of meat.

Preparation: 20 Minutes
Cooking: 2 Hours
DIPS
This absolutely delicious Feta Dip is so easy to make and tastes absolutely delicious.

Preparation: 15 Minutes
Cooking: 10 Minutes

Onion, Tomato & Cucumber Raita is a quickly-made accompaniment for all kinds of Indian Biryani. You can use it as a delicious dip with raw vegetables.

Preparation: 10 Minutes
Cooking: NIL
SAVOURY PRESERVES
*** SALADS ***
ALL SALADS RECIPES
*** SAUCES, STOCKS, SALAD DRESSINGS & GRAVY ***
GRAVIES
SAUCES
STOCKS
*** SOUPS ***
ALL SOUPS RECIPES
*** VARIOUS ***
ALL VARIOUS RECIPES
*** VEGETABLES ***
ARTICHOKE
ASPARAGUS
AUBERGINE (EGGPLANT)
BROCCOLI
BRUSSELS SPROUTS
CABBAGE
CARROTS
CAULIFLOWER
CELERY
COURGETTES (ZUCCHINI)
CUCUMBER
FENNEL
KIDNEY BEANS
LEEKS
MUSHROOMS
OKRA (GUMBO)
ONIONS
PARSNIPS
PEAS
POTATOES
PUMPKIN
SPINACH
SWEET CORN
SWEET POTATOES
TOMATOES
VARIOUS VEGETABLES
ZUCCHINI (COURGETTES)
What To Eat Tonight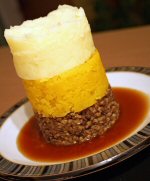 98 Unusual Recipes
There are lots of recipes for some foods, but here we offer a selection of recipes that are truly out of the ordinary. You'll be amazed.

264 Recipes for a Crowd
Having a gang of friends in , or the whole extended family? Need a recipe that's easy to 'extend' to accommodate a bigger group? No problem!
17 Simple Leftover Recipes
What do you do with the leftovers? There are so many really great ways to make use of them that your should never waste anything.
Recipes That Are Trending Now